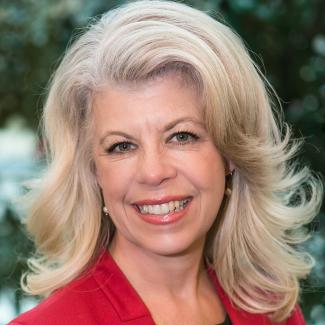 LEXINGTON, Ky. — Prichard Committee President Brigitte Blom, a 2007 Martin School graduate with a master's degree in public policy, has been named the recipient of the 2023 Distinguished Alumni Award. The award recognizes Martin School alumni who have demonstrated excellence in their chosen career path within public service.
Blom has been a leader in the education field for over 20 years, serving as director of public policy for United Way of Greater Cincinnati before being named to lead the Prichard Committee in 2015. She also spent a decade as an elected member of the Board of Education in Pendleton County and is the former vice chair of the Kentucky State Board of Education.
"Graduates from the University of Kentucky Martin School leave prepared to take on the challenges facing Kentucky and the nation. Attending the Martin School was a formative experience for me, both in my career and in my commitment to the power of public service to ensure positive change in our communities," said Blom. "Attending the Martin School was instrumental in my lifelong dedication to bringing together coalitions to improve education and the economic well-being of Kentuckians."
The Martin School Board of Visitors selected Blom as the 2023 Distinguished Alumni Award recipient. The award is presented each year at the Alumni and Friends event to Martin School alumni who have excelled in their leadership roles across the public, nonprofit, and private sectors.
"Brigitte is widely respected for her efforts in both the public and private sector to affect policy decisions that result in an improved quality of life," Zimmer said.  "Throughout her career, she has worked on various important public policy issues ranging from early childhood education and poverty to state taxes and budgets. We are very proud to claim her as a graduate of the Martin School."
Blom was recognized at the 2023 Alumni and Friends event on April 14, 2023. She was awarded alongside late Gov. Edward T. (Ned) Breathitt Jr. and State Sen. Gerald Neal as the newest Kentucky Public Service Hall of Fame member.