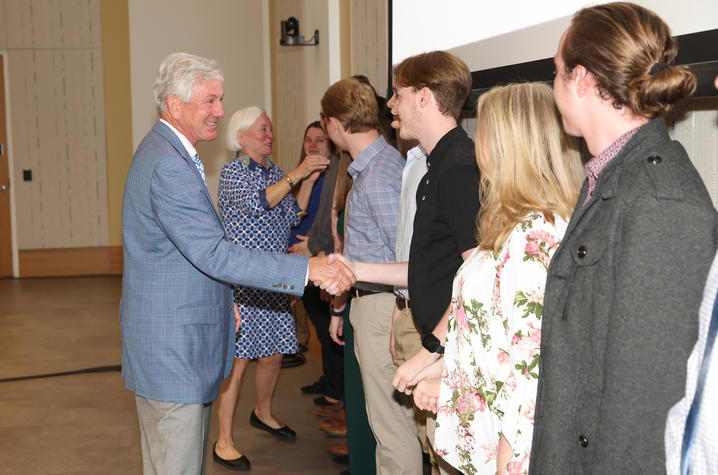 LEXINGTON, Ky. — Stanley Pigman understands the immense impact of higher education and financial support. Born and raised in Eastern Kentucky, he is also passionate about engineering being an accessible career path for students from the region. At 17, Pigman received a scholarship to study mining engineering at the University of Kentucky.
Upon graduating with a bachelor's degree from the College of Engineering in 1981, Pigman committed to creating opportunities and transforming students' lives for future generations. Today, he, and his wife Karen, continue to live up to that mission.
Approved by the Board of Trustees, the Pigmans have pledged more than $34.5 million to UK Engineering — marking the largest single gift in the 158-year history of the university.
For their long-standing support, UK President Eli Capilouto recommended the college be named the Stanley and Karen Pigman College of Engineering. It would be the university's fourth named college — besides the Gatton College of Business and Economics, the Lewis Honors College and the J—David Rosenberg College of Law.
The donation, the largest single gift ever made to the university, extends the Pigmans' philanthropic vision for future generations. With this gift, Stan and Karen's philanthropic impact on UK totals more than $55 million.
The Pigmans' generosity will further strengthen the academic excellence of UK Engineering by supporting renovation, expansion and need-based scholarships, including:
[email protected] Program

Establishment of a new non-endowed mentoring scholarship fund to be named the "Lessons at UK Program."

Scholarships

Additional support for the "Stanley Pigman Engineering Scholarship" fund.

College Initiatives

Establishment of a new non-endowed fund to be named the "Stanley and Karen Pigman College of Engineering Initiatives Support Fund."

Research, Graduate Education and Faculty Endowments

Establishment of an endowment to be named the "Lighthouse Beacon Foundation Endowment for Research and Graduate Education."
Additional funding to the "L. Stanley Pigman Distinguished Professorship in Power," which supports faculty positions within the college.

Funkhouser Expansion and Modernization

A $10 million gift will support the renovation and expansion of the Funkhouser Building — adding 100,000 square feet of state-of-the-art teaching and research spaces to UK Engineering. The project aims to support enrollment growth, additional faculty members and research goals.

The EduceLab Professor of Heritage Science Endowment

Supports leadership activities for EduceLab, including recruiting and retaining outstanding STEM+Heritage Science talent (students, faculty and staff) in the service of ongoing design, commissioning and operational capabilities.
For more than 20 years, the Pigmans have financially supported and mentored 200+ engineering and computer science students through the L. Stanley Pigman Scholarship Program. Today, more than 120 undergraduate engineering students are supported by Pigman scholarships.
The Pigmans' gifts are crucial to ensuring engineering students acquire the skills and traits needed to solve unique challenges and ultimately improve the lives of those in the Commonwealth and beyond.
Last year, the Pigmans also created a scholarship program in the Office for Student Success that expands its reach to first-generation students pursuing degrees outside of engineering. The L. Stanley Pigman First-Generation Scholarship provides scholarships to selected first-generation students graduating from high schools in 32 Eastern Kentucky counties.
In addition to their scholarship funds, the Pigmans established two endowed faculty positions in power engineering — the L. Stanley Pigman Chair in Power and the L. Stanley Pigman Faculty Fellowship in Power. They have also been strong supporters of the UK Solar Car and Formula One Team, SPARK electrical engineering laboratory and PEIK (Power and Energy Institute of Kentucky), among other numerous activities and projects within the college.
More about Stanley Pigman
In 1981, Pigman began his career as a project engineer with the Sierra Coal Company. In 1983, he became a market analyst with the Old Ben Coal Company — the largest coal company in the world.
Pigman then joined Pyro Mining Company as marketing manager and was later named marketing director. In 1992, he was named the vice president of sales at the newly formed Sugar Camp Coal. In 1997, Pigman and two business associates partnered with Black Beauty Coal Company, where he managed the company's extensive assets in Illinois by introducing expanded coal production.
In June 2001, Pigman's entrepreneurial spirit took over. He formed his own company — Pigman Coal Sales, providing sales services to an independently owned start-up company for a new greenfield mining project in western Kentucky.
Since selling the company in 2004, he created three additional companies that owned and leased coal properties (Mackey Development, Delaware Resources and Buck Creek). They provided exploration, engineering and permitting services to sites totaling more than 50,000 acres containing more than 400 million tons of coal.
For his career achievements and commitment to community service, Pigman was inducted into UK Engineering's Hall of Distinction in 2009 and the UK Alumni Association Hall of Distinguished Alumni in 2020. The university also awarded him an Honorary Degree of Humane Letters in 2017.
Stanley and Karen Pigman currently reside in Wilmington, North Carolina.