LEXINGTON, Ky. — The Prichard Committee for Academic Excellence announced the release of its illuminating Meaningful Diploma Series. This follows the earlier release of its report, The High Demand for Durable Skills. Together, these publications provide a comprehensive roadmap for enhancing education in Kentucky by focusing on developing durable skills and fostering deeper learning.
"We are excited to elevate the important work educators are doing now to give their students the best possible start in life," said Prichard Committee President Brigitte Blom. "While educational rankings can give us one piece of the puzzle, it is clear that the true measure of success lies in the combination of content mastery and real-life skills, like communication, leadership, critical thinking, and collaboration."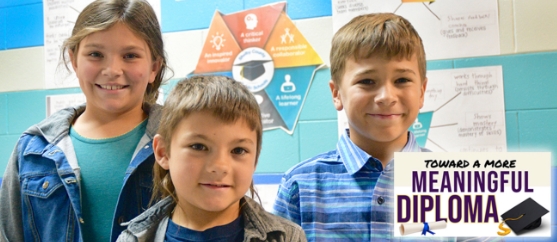 The Meaningful Diploma Series consists of four reports that examine how durable skills — attributes that set students up for achievement in the workforce — are being incorporated into classrooms across the state and what that means for long-term success.
Examples of classrooms across Kentucky developing durable skills are not hard to find. At Tilden Hogge Elementary in Morehead, fifth-graders explored the various uses of public spaces in their community, focusing on ways to enhance their school playground. Meanwhile, at Rowan County Senior High, chemistry students conducted lab experiments to test the properties of water and other substances as part of a project centered on the essential ingredients for supporting life. Over at Allen County Intermediate, fourth graders explored the necessary community services to restore after a natural disaster strikes. And students at Belfry High delved into a project to transform manure and food scraps into nutrient-rich fertilizer.
"As the former president of the Kentucky Community and Technical College System (KCTCS), I saw firsthand the transformative power of education when it's coupled with the development of durable skills," said Dr. Jay Box, former KCTCS president and member of the Prichard Committee Board of Directors. "Integrating durable skills can help ensure our students are not just academically proficient but also equipped with the critical skills needed to navigate and excel in our ever-evolving economy."
Despite the positive steps in Kentucky, significant challenges remain in breaking the status quo, including disparities in educational attainment, persistent achievement gaps between students of color and their white peers, and ongoing teacher shortages in critical subject areas.
"While foundational literacy and numeracy skills remain important for our student's future success, they alone are not enough to ensure our economic prosperity and quality of life in the fast-moving economy that our children will inherit," said Kentucky Education Commissioner Jason E. Glass. "If we can count on anything, it is that the forces shaping commerce will only accelerate in the years to come. This calls on us to reimagine education and create deeper and richer learning experiences for our students that prepare them for the world that awaits them. The Prichard Committee's efforts around Meaningful Diplomas and bringing authentic and deep learning experiences to our students are important as we work to redesign education at scale in Kentucky and prepare our students for their futures."
The Prichard Committee collaborated with America Succeeds, a national nonprofit that aims to involve business leaders in enhancing access and opportunity in education, to produce a Kentucky-specific report. The study analyzed nearly 900,000 job postings from the past two years in 20 different industries and found that at least one durable skill is required in 74 percent of Kentucky jobs.
"The collaboration with the Prichard Committee has allowed us to further delve into the pressing need for durable skills in today's ever-changing job market," said Tim Taylor, Co-Founder and President of America Succeeds. "Our findings nationwide have revealed a significant demand for these skills, emphasizing the urgent need to integrate them into our education system."