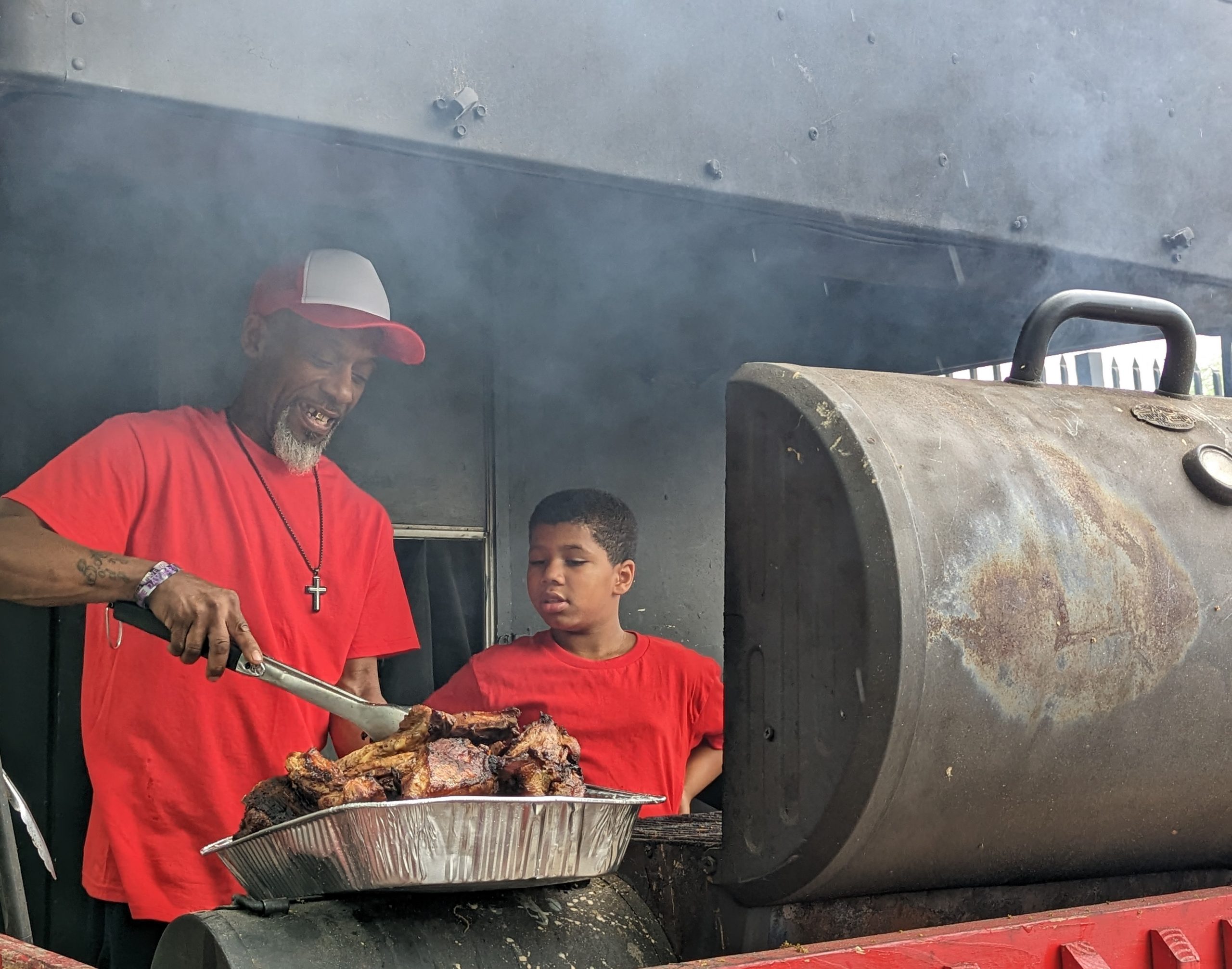 LOUISVILLE, Ky. — OneWest, the community development nonprofit committed to elevating our entire city through commercial development growth in the West End of Louisville, held a grand opening celebration for the organization's retail accelerator program for community chefs looking to grow their business. Mayor Greenberg joined community leaders and community members for the opening of Gore's SmokeOut BBQ in the furnished retail space at one of two renovated row houses at 516 A & B S. 18th St.  The two-year residency will allow the business owners to hone their concept while also receiving support from OneWest with marketing, business operations, table rotation, human resources, bookkeeping, and planning for profit and sustainability.  OneWest anticipates selecting a second restaurant to participate in the accelerator and occupies the other row house in the next few months. It is part of an effort to bring more jobs and dining options to the West End.
"We conducted a survey of the community and one of our main takeaways was a great desire for more local restaurants in the West End," said Evon Smith, President & CEO of OneWest.  "We are thrilled to be able to collaborate with a talented and enterprising couple like the Gores.  We have removed abandoned row houses, rehabbed them, and created new opportunities."
The accelerator is made possible by contributions from individuals and organizations like Sandra Frazier, James Graham Brown Foundation, Gheens Foundation, Alice & Wade Houston, Woodford R. "Woody" Porter, Jr. and Family, OneWest board, and many others.
Each row house is 1670 sq. ft. and designed to seat 49 and some outdoor seating.  Gore's will have a two-year lease and OneWest will be working intentionally to help the restaurant find a permanent home in the West End.
Gore's hosted several weekends of pop-ups throughout March. Crowds lined up to get a taste of favorites like Grippo wings, smoked meatloaf, rib tips and more.  Co-owner Sherelle Gore was raised and resides in the Russell neighborhood, only one block from the 18th Street row houses. She works alongside her husband, Andre, who is also a co-owner.
OneWest has steadily expanded resources for minority business enterprises and raised over $10M in capital funds for commercial and economic development projects in Louisville's West End while securing loans for major commercial projects.  The organization is also helping small business owners by providing a pathway to property ownership, acquiring 200,000 square feet of commercial real estate space, improving the built environment, increasing workforce opportunities and encouraging collaboration.  The organization is a product of the 2014 Leadership Louisville Bingham Fellows class.