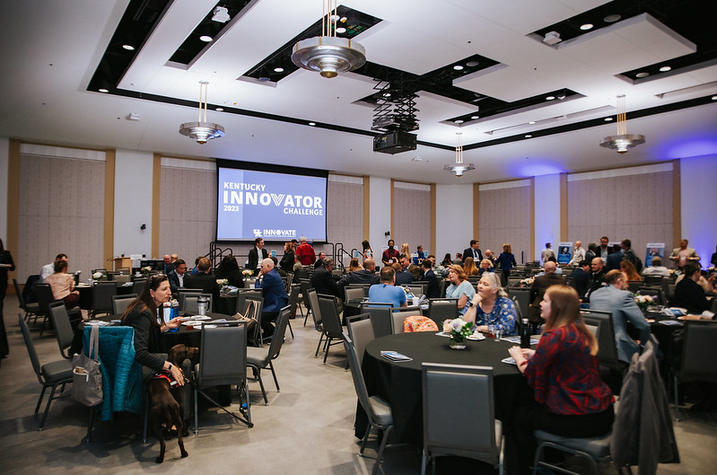 LEXINGTON, Ky. — On April 11, 2023, the inaugural Kentucky Innovator Challenge (KIC) at the University of Kentucky (UK) brought together leaders from business, service organizations and higher education for a one-day summit to identify the most pressing challenges facing Kentucky and discuss collaborative solutions through research and innovation.
This event was developed to forge new relationships and lay the groundwork for innovative solutions addressing the problems of University of Kentucky business partners.
UK Innovate hosted over 150 participants and 11 industry partners for a full day of five keynote addresses, two federal program overviews, three presentation tracks with 15-minute TED Talk-style presentations and a special guest.
The morning kicked off with a welcome from UK Innovation Connect Executive Director Landon Borders, followed by keynote addresses by UK Vice President for Research Lisa Cassis and Kentucky Cabinet for Economic Development Secretary Jeff Noel and an overview of the Advance Research Projects Agency–Energy (ARPA-E) from Deputy Director of Operations and COO Shane Kosinski.
"This was a special day for Kentucky and our diverse innovation ecosystem of industry, community, government, nonprofit, entrepreneurial and academic research partners. I am most delighted by how effectively the programming inspired our audience to discover opportunities to work together in new ways that benefit our Kentucky businesses and, ultimately, our economy," said Borders. "These new partnerships materialized right there at the event in many cases. Despite the successful outcome, our work is far from over. We've already started planning next year's event, which we aim to grow bigger and more effectual than this year's event."
The first track focused on materials, energy and logistics with presentations from leaders of EcoFibre, Wieland North American, Logan Aluminum Inc., Metals Innovation Initiative (MI2), PPL Corporation and the Cincinnati/Northern Kentucky International Airport (CVG).
"The Kentucky Innovator Challenge over-delivered on its goals to bring together genuine business problems and well-resourced problem-solvers across the Commonwealth," said Eric Wang, EcoFibre CEO and managing director. "The event created several new collaboration partners in industries and across the University of Kentucky that I had not expected. The future value of the Kentucky Innovator Challenge cannot be understated."
Dean Rudy Buchheit presented a spotlight on the UK College of Engineering and an overview of the Electrification Mobility Innovation Engine (EMIE), a proposal for the second phase of the National Science Foundation's Regional Innovation Engines program. The presenters and attendees spent time networking and connecting during lunch.
Afterward, leaders from Houchens Industries Inc., Gray Solutions, Bullard and Lexmark gave presentations during the second track focusing on manufacturing and sustainability.
During Walker Mattox's presentation, special guest SPOT, a four-legged mobile robot, joined Walker on stage. After the final presentation in the second track, Graciela Narcho, deputy assistant director of the National Science Foundation Technology, Innovation and Partnerships (TIP), gave an overview of TIPS programs.
"The Kentucky Innovator Challenge strengthened Bullard's belief in why Kentucky is so special! Our Commonwealth has outstanding universities, incredible talent, and future-focused companies," said Wells Bullard, president and CEO of Bullard. "We are very optimistic about how we can collaborate to solve real, life-saving problems for our brave customers. From the Kentucky Innovator Challenge, Bullard hopes to gain collaboration partners to bring innovative solutions to our brave customers to advance human safety."
The third and final track focused on automotive and aerospace innovation with presentations from leaders at Holley, Space Tango and GE Aerospace.
"The University of Kentucky is clearly out in front regarding sustainability. It was exciting to see the government, university and business sectors all coming together to share innovation in this area and working together to create a better future," said GE Aerospace Executive Chief Consulting Engineer Deborah Whitis.
"Engaging our local community and enabling us to think bigger is important. Holley leads our industry in innovation; collaborations across sectors will be increasingly important as we tackle larger challenges," said Vinny Nimmagadda, EVP of corporate development and new ventures at Holley. "Our experience has been wonderful — from meeting national research groups and learning more about potential funding and collaboration opportunities unique to Kentucky to engaging the University of Kentucky's student groups to discuss the growing need for the next generation of problem-solvers excited to tackle opportunities like converting and upcycling existing vehicles from internal combustion to electric powertrains."
The afternoon wrapped up with Kim Sayre's overview of UK Innovation Connect and her focus area — the College of Engineering. Ian McClure, associate vice president for Research, Innovation and Economic Impact and executive director of UK Innovate, presented on Building Innovation Culture: UK Innovate. Landon Borders gave closing remarks. With the event completed, attendees, speakers and presenters engaged with one another during the Networking Reception.