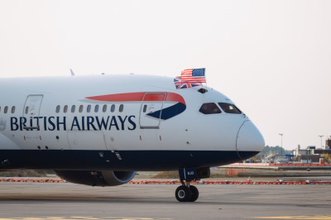 COVINGTON, Ky. — British Airways (BA) announced it has officially arrived at Cincinnati/Northern Kentucky International Airport (CVG), with the airline's inaugural flight from London Heathrow Airport (LHR) touching down just before 7:30 p.m. local time. The Ohio city becomes the 27th American destination served by British Airways and further advances the United Kingdom flag carrier's position as the largest overseas airline in the United States.
The central Cincinnati metropolitan area – straddling the Ohio River – is spread across southwestern Ohio and northern Kentucky and extends into portions of southeastern Indiana. This unique positioning introduces British Airways' superior service to an all-new region of the United States, home to more than 11 million people within a 120-mile radius of Cincinnati's airport.
"When we look at the Cincinnati region, we see a vibrant part of the U.S. with a great mix of business and leisure travelers who have long asked for more international service and global connectivity, which is what made it so attractive to us and why we're confident this new route will be a success," said Neil Chernoff, director of networks and alliances, British Airways. "Our incredibly positive and welcoming conversations with the airport team, the business development community and tourism partners – combined with all the region has to offer visitors from outside the U.S. – were a clear sign that Cincinnati was the right place to expand our flying in America."
Cincinnati-based customers are now a convenient nonstop flight away from the U.K.'s capital city and all of London's iconic landmarks and attractions. From some of the most well-known, like Big Ben, Westminster Abbey, Tower Bridge and Buckingham Palace, to hip hot spots like Borough Market, Shoreditch, Battersea and Notting Hill, there's something for every kind of explorer. Cincinnati's corporate community also benefits from serving one of the world's key business centers.
Additionally, British Airways offers convenient connections from its home at London Heathrow's Terminal 5 to nearly 200 destinations in 65 countries worldwide, including routes with its partner airlines. The arrival of British Airways links Cincinnati to the globe, unlike any other airline in the region.
"We are thrilled this day has come when CVG has nonstop service to and from London-Heathrow," said Candace McGraw, chief executive officer of CVG. "This flight offers tremendous growth opportunities for business travel, economic development, and tourism between the UK and our region. We are grateful to our partners in Ohio and Kentucky who have supported this flight that will benefit travelers for years. I offer a personal thanks to our new friends at British Airways for this opportunity."
British Airways customers arriving at the Cincinnati/Northern Kentucky International Airport will be met with a region in the U.S. packed with things to do. Cincinnati and Northern Kentucky are home to various sports teams, performing arts venues, museums and parks. Unique neighborhoods like Over-the-Rhine and Covington offer an eclectic mix of restaurants, breweries, cocktail bars and art galleries. And for a taste of history and fine spirits, a trip along Kentucky's Bourbon Trail – which stretches south into the state's central region – offers visitors a uniquely American experience.
Service between Cincinnati and London operates five times weekly during the current summer flying season and four times weekly during the winter. The all-new new nonstop flights will be flown by various aircraft in the British Airway fleet, including the Boeing 777 and Boeing 787. All aircraft serving Cincinnati offers a variety of quintessentially British onboard experiences with three distinct cabins – Club World (business), World Traveler Plus (premium economy) and World Traveler (economy).
Summer Schedule between London (LHR) and Cincinnati (CVG)
Mondays, Tuesdays, Wednesdays, Fridays & Sundays  
| | |
| --- | --- |
| LHR – CVG Flight #121 | CVG – LHR Flight #120  |
| 4:05 p.m. – 7:45 p.m. | 9:30 p.m. – 10:15 a.m. (+1) |
Winter Schedule between London (LHR) and Cincinnati (CVG)
Mondays, Wednesdays, Fridays & Sundays  
| | |
| --- | --- |
| LHR – CVG Flight #121  | CVG – LHR Flight #120 |
| 4:00 p.m. – 6:40 p.m.  | 8:25 p.m. – 10:10 a.m. (+1)  |
British Airways offers some 300 weekly transatlantic flights between the U.S. and Europe, the most of any foreign carrier.  All American cities are served by spacious wide-body aircraft with multiple service cabins. Additionally, the airline proudly offers customers flights to more destinations to and from London than any other carrier, giving customers access to one of the world's most extensive flight networks.