Renewed popularity means jobs, economic development, tourists and interest in preservation
By Lorie Hailey
lanereport.com editor

LOUISVILLE, Ky. (May 9, 2013) — Bourbon is making a huge comeback in the commonwealth's largest city, where it formerly had a strong presence. Kentucky's native spirit played a huge role in Louisville's early days. Evan Williams, Kentucky's first commercial distiller, rolled the first barrel of bourbon out of his Louisville distillery in 1783, just five years after the community was settled.
Distillers move back downtown
The city became a hub for distilling activity and distribution, and until the 1920s, as many as 50 distilleries were located on a portion of Main Street dubbed "Whiskey Row."
Over the past 10 to 15 years, bourbon has re-emerged as a much sought-after spirit in the U.S. and globally. It is soaring to new heights of popularity, sales are up across the board, premium brands are flying off the shelf, and the industry is in its largest expansion phase since Prohibition ended.
Interest in bourbon heritage is drawing thousands of visitors from all over the world to Kentucky, where 95 percent of bourbon is produced. More than half a million people visited a Kentucky Bourbon Trail distillery in 2012.
In short, bourbon is a big deal.
Louisville is embracing its bourbon history and its location as an "entryway to the Kentucky Bourbon Trail." A few years ago the city launched the Urban Bourbon Trail, a modern-day experience for the next generation of bourbon bar lovers, and has had great success so far.
Several major distilleries are located in the Louisville Metro area, including Early Times and Heaven Hill's Bernheim Distillery (where Old Fitzgerald is made), but distillers are coming back downtown also. One high-end producer is installing a distillery downtown, Beam Inc. (maker of Jim Beam and Maker's Mark) has established its global services center on Fourth Street, and Heaven Hill is developing a tourist attraction on Whiskey Row right across the street from where Williams first set up his still.
"Louisville's roots run deep in the bourbon industry," said Eric Gregory, president of the Kentucky Distillers' Association. "It is an anchor community (to the Kentucky Bourbon Trail) with a tremendous history. They've been using bourbon more and more to attract visitors, and it seems to be working."
City leaders expect that investing in bourbon and its rediscovered popularity will bring jobs, economic development and more tourists, as well as renewing interest in downtown preservation.
A group of investors is renovating and stabilizing a string of historic buildings on Whiskey Row. The unique cast iron façades of the buildings are being preserved, and developers plan a $5 million bourbon-themed attraction including live entertainment and food. Final plans have not been announced, but bourbon maker Brown-Forman, which in the early 1900s had operations in the Whiskey Row block, has secured naming rights to one of the buildings.
"The sky is the limit for what Louisville can do with bourbon," Gregory said.
Urban bourbon
Centered in downtown Louisville with a few stops in other neighborhoods, the Urban Bourbon Trail guides visitors through the city's bourbon history and some of the world's most celebrated bourbon bars. In addition to bourbon-inspired culinary specialties – such as mint julep pancakes, bourbon barrel-smoked salmon or a bourbon ball milkshake – most of the establishments are stocked with 50 to 150 varieties of Kentucky's signature spirit.
"The Urban Bourbon Trail has proven to be a success," Gregory said.
Like its rural and much longer predecessor, the Urban Bourbon Trail issues a printed passport booklet that is available at the Louisville Convention & Visitors Bureau on Main Street downtown or any of its score of participating locations. An app version is available for smartphones. Visitors who collect six passport stamps earn the rank of Bourbon Country Citizen and an Urban Bourbon Trailblazer T-shirt.
There are 20 official stops along the trail: five in downtown hotels, four of which are internationally recognized, including one mentioned in F. Scott Fitzgerald's "The Great Gatsby." Staff at establishments on the trail are trained to explain nuances and tasting notes in the different bourbons offered. (Download a printable trail map.)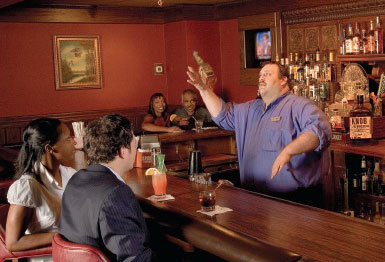 Louisville's downtown also is home to the Distilled Spirits Epicenter, where craft bourbon makers and aficionados can get a comprehensive look at and hands-on experience with the craft of distilling. Opened last spring by Flavorman founder David Dafoe, the facility offers a fully equipped distillery and a flexible bottling line.
The company works with clients to develop distilled spirits and conducts educational workshops dubbed Moonshine University, where students learn how to derive, hone and layer flavors. The Distilled Spirits Epicenter recently became the first educational member of the Kentucky Distillers' Association.
Artisan distilling has taken off in Kentucky – and around the globe. The Epicenter allows amateur and entrepreneurial craft distillers alike "ample room to fine-tune flavors and experiment with applications," according to its website.
Distillers move back downtown
"There's a lot going on right now related to bourbon," said Chris Poynter, communications director for Mayor Greg Fischer's office.
High-end bourbon distiller Michter's, which committed in 2011 to open a boutique distillery downtown, is spending about $8 million to overhaul the historic Fort Nelson building on West Main. Renovation is restoring the Romanesque cast iron and brick structure, which dates to the 1870s. Located across the street from the Louisville Slugger Museum, Michter's will offer distillery tours and bourbon tastings.
It will include stills custom made for Michter's by Vendome Copper & Brass Works, a Louisville maker of stills used worldwide. Master distiller Willie Pratt is providing input on the design and custom manufacture of the copper pot stills.
Already, Michter's is reported to be considering a second distillery in Louisville to meet expected demand and a larger production facility that based in the Shively district of the city.
Meanwhile, Heaven Hill is renovating its historic building at 528 W. Main St. to house The Evan Williams Bourbon Experience, a multimillion-dollar artisanal distillery expected to attract more than 100,000 visitors each year. Local and state officials, along with Heaven Hill company officials, announced today that the tourist attraction will be the eighth stop on the Kentucky Bourbon Trail and the first ever in Louisville.
RELATED:Evan Williams Bourbon Experience joining the Kentucky Bourbon Trail Tour
An artisanal pot distillery viewable to visitors and capable of producing a range of American whiskey types and styles will be a highlight of the attraction, the company says. However, the feature sure to generate a bigger buzz is the building's façade featuring a five-story-high pouring bottle of Evan Williams bourbon. The bottle will be depicted on the top three floors via window graphics, and the two lower floors will present the bottle's three-dimensional neck above a huge tumbler in the lobby into which flows a "bourbon fountain."
The Evan Williams Bourbon Experience will offer guided tours, where guests go back in time to see Williams' original distillery, Louisville river wharf scenes and high-definition video renderings Whiskey Row from the turn of the 20th century.
A dioramic video wall display allows guests to see how Heaven Hill's modern Bernheim Distillery in Lawrenceburg, Ky., operates and how it is different from those in the first Williams era. Visitors then will see the modern-day combination: a state-of-the-art operation with pot stills from early bourbon-making days.
"The gleaming copper pot stills are a modern version of the same type of equipment Evan Williams himself set up in his distillery along the Ohio River over 200 years ago," according to Heaven Hill.
The attraction's tasting rooms will include one modeled after the interior of the Philip Hollenbach Co. Whiskey Distributor that occupied the building over 70 years ago prior to Heaven Hill's acquisition.
"This is a great project, not only because of Heaven Hill's significant investment and the jobs it will create but for the history that is being reclaimed as the bourbon industry returns to Main Street in downtown Louisville," Fischer said.
On the industry's traditional business operation side, Beam's Global Business Services Center is expected to open fully by summer 2013 in the heart of Fourth Street Live! Beam, which owns dozens of liquor brands, is spending $1.7 million on the project.
The 24,000-s.f. center will centralize financial and human resources activities, according to the company. It will be the primary point of contact for Beam's North America businesses' accounts payable, benefits, compensation, payroll and other key business processes.
"Several other bourbon distillers are looking at opening different types of 'experiences' downtown," Poynter said. Bourbon could play a particularly large role in what Poynter said is the potential for major growth downtown in the region's already strong food and beverage business cluster.
Barrel-aged liquor is driving tourists to Louisville, he said, which holidaymakers are using as a base for their Kentucky travels – visiting Churchill Downs and the Urban Bourbon Trail, taking distillery tours across the state, visiting horse farms in Central Kentucky and returning to Louisville.
The city and region's ultimate goal, Poynter said, is to become "the Napa Valley of bourbon," drawing a comparison to California wine country's tourism industry.
Bourbon is playing a role in city economic development initiatives. For example, when Fischer made a trip in February to visit a business prospect in New York, Poynter said, upon arrival the mayor presented the group with a box labeled "Give Kentucky a Shot." Inside were small bottles of Maker's Mark, Woodford Reserve and Four Roses.
"It is a great conversation starter and a great economic development tool for us," Poynter said. "Bourbon is also a great way to get us in the door."
ATTRACTIONS & DISTILLERIES
Barton 1792 Distillery
Bardstown – 1792bourbon.com
Bourbon Classic
Louisville – bourbonclassic.com
Early Times
Louisville – earlytimes.com
Four Roses (warehouse/bottling facility)
Cox's Creek – fourroses.us
Heaven Hill Distilleries Inc.
Bardstown – heaven-hill.com
Heaven Hill Distilleries
Bourbon Heritage Center
Bardstown – bourbonheritagecenter.com
Jim Beam Brands Co./
Jim Beam American Stillhouse
Clermont – jimbeam.com
Kentucky Bourbon Festival
Bardstown – kybourbonfestival.com
Kentucky Bourbon Trail
bourbontrail.com
Limestone Branch Distillery
Lebanon – limestonebranch.com
Maker's Mark Distillery Inc.
Loretto – makersmark.com
Michter's Distillery LLC
Louisville – michters.com
Old Forester
Louisville – oldforester.com
Urban Bourbon Trail
Louisville – bourboncountry.com/urban-bourbon
Whiskey Row
Louisville
URBAN BOURBON TRAIL STOPS
(All in Louisville)
Asiatique
1767 Bardstown Road
asistiquerestaurant.com
Avalon
1314 Bardstown Road
avalonfresh.com
The Bar at BLU
280 W. Jefferson St.
blugrille.com
Baxter Station Bar & Grill
1201 Payne St.
baxterstation.com
Bourbons Bistro
2255 Frankfort Ave.
baxterstation.com
Bristol Bar & Grille
614 W. Main St.
bristolbarandgrille.com
The Brown Hotel Lobby Bar
335 W. Broadway
brownhotel.com
Buck's
425 W. Ormsby
buckslou.com
Corbett's: An American Place
5050 Norton Healthcare Blvd.
Corbettsrestaurant.com
Derby Café: at the Kentucky Derby Museum
704 Central Ave.
derbycafe.com
Dish on Market
434 W. Market St.
dishonmarket.com
Doc Crows Southern Smokehouse & Raw Bar
127 W. Main St.
doccrows.com
Equus & Jack's Lounge
122 Sears Ave.
equusrestaurant.com
Jockey Silks Bourbon Bar
140 N. 4th St.
galthouse.com
Limestone
10001 Forest Green Blvd.
limestonerestaurant.com
Maker's Mark Bourbon House & Lounge
446 S. 4th St.
makerslounge.com
The Old Seelbach Bar
500 S. 4th St.
seelbachhilton.com
Proof On Main
702 W. Main St.
proofonmain.com
Ramsi's Café on the World
1293 Bardstown Road
ramsiscafe.com
Village Anchor
11507 Park Road
villageanchor.com