Cites 'solid financial metrics'
CINCINNATI (July 2, 2013) – Fitch Ratings today upgraded Cincinnati/Northern Kentucky International Airport's rating on outstanding revenue bonds to A- and said its outlook for the airport remains stable.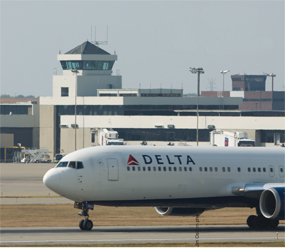 In raising the airport's rating from BBB+, Fitch cited CVG's "solid financial metrics." Among these metrics, Fitch included lower fixed costs going forward, with a 75 percent reduction in annual debt service requirements beginning in 2014; management of the Capital Improvement Plan with no need for new borrowings in the foreseeable future; the ability to maintain competitive cost-per-enplanement levels and "robust fund balances available on the balance sheet."
Fitch also pointed out as positives CVG's steady origin and destination traffic base of more than 2.1 million passengers, CVG's updated and modern infrastructure with "ample capacity for expansion," the arrival of low-cost carrier Frontier Airlines and the continuing expansion of DHL's cargo hub.
Candace McGraw, CVG's chief executive officer, said rapidly increasing cargo traffic – CVG is among the fastest growing cargo airports in the nation – improving concession, parking and car rental revenue and the addition of Frontier Airlines all helped improve the financial profile of CVG.
"The airport has a solid track record of financial responsibility, a low, flexible debt structure and an aggressive strategy for income diversification," McGraw said. "We're extremely glad others have taken notice of our success and we want to keep the good news coming in the form of future growth."