CINCINNATI (Sept. 26, 2013) – Local passengers using Cincinnati/Northern Kentucky International Airport (CVG) have been up for six straight months, a key indicator of increasingly positive momentum for the region's largest commercial airport.
The airport also has experienced year-over-year increases in its cargo traffic, as well as concession and parking revenues.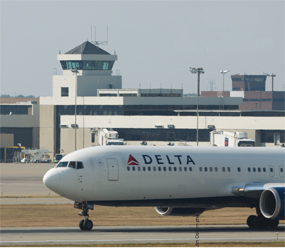 For the sixth consecutive month, CVG has experienced year-over-year growth in its origin, or local, passengers. Origin passengers in the month of July 2013 increased 6 percent while in August 2013 traffic increased approximately 5 percent compared to origin passengers in the prior year. Overall, year-to-date, origin traffic is 2.4 percent higher compared to 2012.
"All of the passenger, cargo and revenue metrics are moving in the right direction and showing a very positive story of reinvention at CVG," said James Huff, chairman of the Kenton County Airport Board.
At the height of the airport's passenger volume in 2005, approximately 75 percent of its passengers were connecting through the airport on their way to another destination, with only 25 percent of its passengers originating from CVG. After the merger between Delta and Northwest Airlines and flights decreased, the profile of the CVG passenger changed significantly. In 2012, approximately 70 percent were local travelers coming through CVG's front door, with connecting passengers accounting for 30 percent of the traffic. The percentage of local passengers is expected to increase through 2013.
"We have invested in serving the local traveling public and those investments are paying off," said Candace McGraw, CEO of CVG. "We've placed an emphasis on diversifying our carriers, our routes and our fares and it has made our airport very appealing to the region's travelers. The airport's long-term success is directly connected to growing our local passenger base."
CVG has also experienced growth in its cargo traffic. Buoyed by DHL's growing presence at the airport, cargo increased approximately 10 % year-over-year through August 2013.  The increase in cargo helps CVG keep its landing fees stable, which is attractive to prospective carriers.
"The airport has created an incredible partnership with DHL that has led DHL to invest $105 million in capital projects since 2009 and expand from 1,600 to 2,300 employees," McGraw said. "Cargo accounts for about 47 percent of the airport's landed weight. More than 90 percent of everything shipped via DHL in the Americas travels through CVG. That is a tremendous advantage for our airport."
May's addition of Frontier Airlines and this month's launch of Ultimate Air Shuttle are two of the more noteworthy enhancements driving up CVG's metrics. CVG continues to be the premier airport in a three-state region, offering more than 170 daily departures to 47 non-stop cities – more than any other airport in the region – and the only airport in the three states with direct service to Europe.
Huff said CVG's people have played an important part as well.
"One of the most powerful reasons we are growing is because of the outstanding customer service passengers receive at CVG," he said. "The CVG community recognizes it is serving its family, friends and neighbors on a daily basis and you can count on our employees to turn on the Midwestern charm that has led our airport to be named Best Regional Airport in North America three straight years."
CVG officials say their airline partners offer passengers more non-stop flights than any other airport in the region, including direct international service to Paris, Toronto and Cancun.
CVG is home to DHL's North America hub and has been rated the Best Regional Airport in North America three straight years by SkyTrax, an independent, London-based air transport research organization. In 2011, CVG became the first airport in the country to receive both Designation and Certification from the Department of Homeland Security (DHS) under the Support Anti-Terrorism by Fostering Effective Technologies (SAFETY) Act, giving the airport the highest level of protection under the Act.