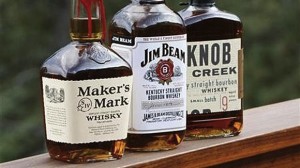 LOUISVILLE, Ky. (Jan. 14, 2014) — A Japanese company has announced plans to acquire Illinois-based Beam Inc., the parent company of Jim Beam and Maker's Mark, for $16 billion.
Suntory Holdings Limited is Japan's leading player in alcoholic and non-alcoholic beverages, with 2012 sales of approximately $17.6 billion. The company's alcoholic beverage business includes brands represented by its flagship single-malt whisky Yamazaki, The Premium Malt's beer, wine and ready-to-drink brands.
The acquisition of Beam, which has been unanimously approved by each company's board of directors, is expected to close in the second quarter of this year, subject to Beam stockholders' approval, regulatory approvals and other customary closing conditions.
In a joint press release, the two companies said that the transaction will create a stronger global player in the premium spirits sector, with annual net sales of spirits products exceeding $4.3 billion.
Though Beam is headquartered in Deerfield, Ill., the company has a strong presence in the commonwealth. In addition to the Jim Beam distillery in Clermont, Ky., and the Maker's Mark distillery in Loretto, Ky., Beam invested some $1.7 million last year to open a global business services center in downtown Louisville and operates a bottling facility in Frankfort.
"This is a very exciting development that delivers substantial value for our stockholders and creates an even stronger global company with an excellent platform for future growth," said Matt Shattock, president and chief executive officer of Beam Inc.  "Together we will be a global leader in distilled spirits with the No. 3 position in premium spirits and a dynamic portfolio across key categories.  With particular strength in bourbon, Scotch, Canadian, Irish and Japanese whisky, the combined company will have unparalleled expertise and portfolio breadth in premium whisky, which is driving the fastest growth in Western spirits. Backed by the expertise and the financial resources of Suntory, the people of Beam look forward to working with the Suntory team to continue outperforming our global market and to building on the proud traditions and deep heritage of our brands across all the major spirits categories."
Suntory and Beam already have a successful business relationship under which Suntory distributes Beam products in Japan and Beam distributes Suntory's products in Singapore and other Asian markets.