Proceeds help retired Thoroughbreds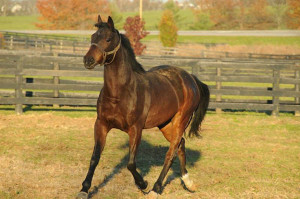 LOUISVILLE, Ky. (July 29, 2014) — Award-winning Woodford Reserve bourbon has donated $26,000 to the Old Friends Retirement Center. The donation stems from net proceeds raised during the selling of 89 exclusive $1,000 Mint Julep Cups during the Kentucky Derby. This is the second year that Woodford Reserve has donated proceeds from their Woodford Reserve $1,000 Mint Julep Cup program to Old Friends.
"The support Woodford Reserve has generously bestowed on Old Friends has directly led to the expansion of our Georgetown facility and, more importantly, to the retirement of 26 additional Thoroughbreds including 2010 Breeders' Cup Marathon winner, Eldaafer," said Michael Blowen, Old Friends Thoroughbred Retirement Center president.
2014 marked the ninth year of the Woodford Reserve $1,000 Mint Julep Cup program, with more than $380,000 total raised for equine and humanitarian causes. The proceeds from this year's $1,000 Mint Julep Cup program will be used towards costs of feed and hay for the horses at Old Friends.