Program a "Creative Innovation Zone" project, an artist-led initiative based in Smoketown
LOUISVILLE, Ky. (Oct. 2, 2014) — Chef Edward Lee has founded a new culinary partnership with IDEAS 40203 and YouthBuild Louisville to benefit the lives of young adults. The goal of the culinary program is to inspire generational sustainability through creative workforce development and job skills training.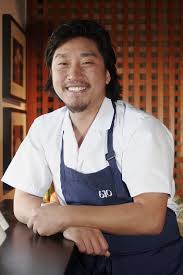 As part of the "Creative Innovation Zone" project, an artist-led initiative based in Smoketown, Lee will create a real-life restaurant career training program for aspiring chefs and managers who would otherwise not have the opportunity to learn the trade in a safe and nurturing environment. The Creative Innovation Zone is supported by an ArtPlace America grant, secured by IDEAS and YouthBuild in partnership with the Metro Louisville Commission on Public Art.
"We have partnered with YouthBuild Louisville to design a program that will create jobs for young smart people who can't afford the schools that train them to join the restaurant industry," Lee said. "The innovative life skills and job training program we are creating will assist young adults who desire to make a positive change in their lives."
For over a decade the restaurant industry has seen double-digit growth that has created an industry-wide need for skilled workers. Lee's apprenticeship model program is geared to fast track young adults looking for a career in Louisville's culinary industry. The restaurant sector demand for skilled labor creates a tremendous opportunity for high-wage job creation in Louisville.
"For more than 15 years Youthbuild Louisville has established a proven model of workforce development that combines personal growth, with job skills training, while championing young adults to be great citizens who build productive lives and sustainable communities," said Lynn Rippy, executive director of YouthBuild Louisville. "Our partnership with Chef Lee is a wonderful addition to our programs in construction, green collar, and nursing jobs, and will greatly expand the number of young people we can serve."
"It's a perfect fit for our creative place making grant from ArtPlace America," said Theo Edmonds, executive and artistic director of IDEAS 40203. "Traditionally, much creative placemaking has focused upon repurposing real estate. IDEAS 40203's approach is unique because we focus on workforce development as the primary driver of economic growth and sustainability. An experienced, respected, entrepreneurial, culinary artist like Chef Lee is a valuable contributor to our creative team of innovators who are working out new, holistic approaches that balance human and economic development as dual considerations in building equitable communities."
The Culinary Training program will be launched on Oct. 2 in conjunction with the Smoketown Poetry Opera, taking place on YouthBuild Louisville's campus.