Bob King elected as chair of State Higher Education Executives Officers Association
FRANKFORT, Ky. (Oct. 2, 2014) — Council on Postsecondary Education President Bob King has been elected chair of the State Higher Education Executives Officers Association (SHEEO) Executive Committee. SHEEO is the national organization that represents and oversees higher education on behalf of the states and their citizens.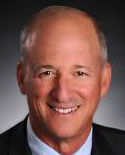 King was elected by the 58 members of the organization to lead the association and its staff for the period from October 1, 2104 through September 30, 2015.
As chair, King will preside over SHEEO's annual meeting and the meetings of its executive committee, will advise and oversee the work of the SHEEO president, and will appoint the chairs of all SHEEO committees.
King will help shape the policy direction for SHEEO in areas such as student completion, affordability, data usage, assessment of student learning, connections between higher education and K-12, and teacher development as SHEEO strives to provide policy development and assistance to its members. He will also engage in nationwide discussions about how to enable students to succeed in their quest for college degrees and credentials. Additionally, he will guide SHEEO's proposals and initiatives with the federal government.
Other officers include: vice chair John (Andy) Tompkins, president and CEO for the Kansas Board of Regents; treasurer Peter Blake, director of the State Council of Higher Education for Virginia; and immediate past chair Teresa Lubbers, commissioner of the Indiana Commission for Higher Education.