Ambati is studying a newly discovered type of DNA
LEXINGTON, Ky. (Oct. 6, 2014) — A University of Kentucky professor and scientist was one of 10 recipients nationwide to receive the National Institutes of Health (NIH) Director's Pioneer Award.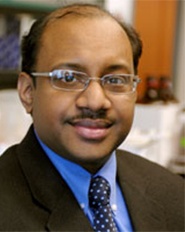 Dr. Jayakrishna Ambati, professor & vice chair of the Department of Ophthalmology & Visual Sciences at UK, is the first ophthalmologist to win this award, which has been given out since 2004.
The Pioneer Award — the first ever to an institution in Kentucky — totaling $3.76 million over five years, is given to exceptionally creative and visionary scientists who propose highly innovative approaches to major challenges in biomedical research that could yield potentially high payoffs for human health.
Ambati, who holds the Dr. E. Vernon & Eloise C. Smith Endowed Chair in Macular Degeneration Research, received the award to support his study of a newly discovered type of DNA that could have a profound impact on biology and medicine.
"I am honored to have received this award from among an exceptionally competitive group of scientists, and thrilled to have a once-in-a-lifetime opportunity to explore our most imaginative concepts," Ambati says. "My group and I are excited to probe the biology of this fascinating and previously unrecognized genetic material. We are particularly keen to understand its role in various ocular and neurological disorders. If we are successful, we expect to make new strides in translating these findings to human therapy."
Ambati, who came to the University of Kentucky in 2001, also sees patients with retinal disorders, with a particular emphasis on age-related macular degeneration (AMD), a leading cause of blindness worldwide. His laboratory's groundbreaking research on the mechanisms that control cell death and vascular growth have led to fundamental insights into the factors that lead to development of AMD. His group has recently developed a new therapeutic to treat the dry form of AMD known as geographic atrophy, which they are planning to test in clinical trials for this currently untreatable condition that affects millions worldwide.
"When we talk about UK's pioneering expert scientists who address the relevant and complex issues of our day, we are talking about faculty like Dr. Jayakrishna Ambati," said UK President Eli Capilouto. "The NIH's Pioneer Award is a rare honor awarded to a small number of our world's brightest minds. Dr. Ambati is at the forefront of his field and an exceptional scientist intently focused on expanding our understanding and improving treatment of macular degeneration."
Ambati is a Fellow of the American Association for the Advancement of Science, an elected member of the Association of American Physicians, American Society for Clinical Investigation, Macula Society, and Club Jules Gonin, and American Society of Retinal Specialists. He also serves on the Editorial Boards of Investigative Ophthalmology & Visual Science, Ophthalmology, and Translational Vision Science & Technology. His work has been previously recognized with awards from the American Geriatrics Society, Association for Research in Vision & Ophthalmology, Burroughs Wellcome Fund, Canadian National Institute for the Blind, Doris Duke Charitable Foundation, Ellison Medical Foundation, Foundation Fighting Blindness, Harrington Discovery Institute, and Research to Prevent Blindness.