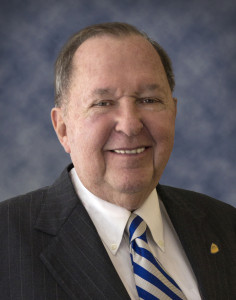 UK grad has given more than $45 million to alma mater
LEXINGTON, Ky. (Nov. 21, 2014) — Earlier this week, Carol Martin "Bill" Gatton received the Distinguished Philanthropist Award from the Bluegrass Chapter of the Association of Fundraising Professionals (AFP) at its annual National Philanthropy Day Celebration Luncheon in Lexington.
Each year, the AFP Bluegrass Chapter presents this award to an individual, corporation or foundation making a significant contribution to society through acts of kindness and charitable giving.
University of Kentucky Vice President for Development Mike Richey said, "Bill Gatton has a big heart for helping young people achieve their dreams for education. He is making extraordinary gifts to advance higher education in Kentucky and beyond. And his professional achievements and philanthropic vision distinguish him as one of the most outstanding graduates of the University of Kentucky."
Gatton was born on his family's farm in Muhlenberg County as the youngest of four children. He served as president of Future Farmers of America in Kentucky and graduated from high school as the class valedictorian.
Gatton enrolled at the University of Kentucky in the fall of 1950. Two years later, as a 20 year-old sophomore, he got a job selling cars at the L.R. Cooke Chevrolet dealership on High Street. He graduated from UK in 1954, spent two years in the U. S. Army, and then attended Wharton Graduate School of Business at the University of Pennsylvania. He majored in finance and banking, taking additional courses in sales management and real estate.
After graduating from Wharton, Gatton opened one of the first Volkswagen dealerships in Kentucky. Eventually, he sold it to obtain the Chevrolet – Cadillac dealership in Bristol, Tennessee. His business grew. He acquired other dealerships in other markets, eventually owning nine dealerships in Tennessee, Alabama and Texas. He also invested in banking and real estate, including the Beaumont development in Lexington. In 1981, he formed Area Bancshares of Owensboro, and eventually it became the largest bank holding company in Kentucky, owning 17 banks with 65 branch offices located from Harlan to Paducah.
Gatton said, "I have enjoyed making money, but I've discovered it's even more enjoyable to give it away to something worthwhile."
Gatton has given the University of Kentucky the two largest gifts it has ever received — $14 million for the College of Business and Economics in 1995, and $20 million for a new UK student center earlier this year. His total philanthropy to his alma mater now exceeds $45 million. Gatton said he hopes his giving will encourage others to also support the University of Kentucky.
"Bill Gatton's historic support for the University of Kentucky is having a profound impact on higher education in the Commonwealth," said UK President Eli Capilouto. "Bill is helping us meet the challenges we face today so that we can move the University of Kentucky boldly forward into the future."