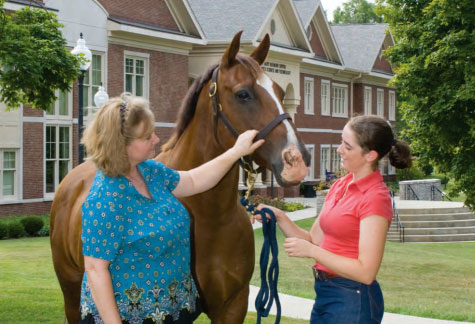 Kentucky's equine education industry is bucking trends. Colleges, universities and other training programs are seeing tremendous growth in their equine degree enrollment at the same time the overall economy, as well as the racing industry, is struggling.
Eight commonwealth colleges and universities offer equine majors or emphasis, plus fields of study that can accommodate any horse lover's interest. Demand has spurred several to make significant investments in new barns, lab and classrooms.
The eight schools recently formed a consortium to promote equine higher education. The University of Kentucky's Equine Initiative and the University of Louisville's Equine Industry Program partnered to rent a booth at the Alltech FEI World Equestrian Games and invited the other six programs to join them. The 16-day event presents an unparalleled opportunity to reach equine enthusiasts from across the United States and abroad.
As much as 50 percent of the students in Kentucky's equine higher educational programs are from out-of-state. In addition to tuition dollars, some students bring their horses.
Nick Nicholson, president and CEO of Keeneland Racecourse, has seen Kentucky's equine educational offerings develop, and now flourish, during his tenure both at the Lexington track and as CEO of The Jockey Club.
"We've been saying for decades that there's a hunger out there by students wanting to learn more about the equine industry, or to get their education in an equine environment," said Nicholson. "That shows the power and potential of the phrase 'Horse Capital of the World.' In recent years, as the equine industry's needs have become more sophisticated, the educational programs have become more sophisticated.
"If there is a common denominator when I go a talk to a class at any of these schools, it's diversity. The students all have such diverse backgrounds," he said. "I think the schools have done a great job finding their niche, and I think the equine industry will be reaping the benefits of it for years to come."
While many equine program grads leave the state again, Kentucky is building up its base of better trained professionals also.
"People have begun to realize the significance of the number of employees – over 100,000 – involved in the horse industry in Kentucky, and the universities have begun tapping into that," said Gene Clabes, who spent six years as equine director for Kentucky Equine Education Project. "While the Thoroughbred industry is stagnate right now, there's been a significant increase in activity with the non-race breeds."
KEEP has a team leader in every Kentucky county and represents all breeds.
"We need to be as diverse as the equine industry is," said Dr. Bob Coleman, associate director for Undergraduate Education in Equine Science and Management at UK. "The program offerings across the state are of good quality, and we're all trying to help students land in the right spot to meet their career and life goals. These different programs complement each other. As a team, we're stronger."
'A hot spot' in expanding national trend
There's a national organization with a similar mission. The National Association of Equine Affiliated Academics (NAEAA)?was formed three years ago to advance the discipline through increased communication and cooperation among higher education facilities with equine offerings.
"We started the organization because we recognized how much the undergraduate programs have really grown, especially in the last 10 to 15 years," said Dr. Karin Bump, director of NAEAA and a professor in equine business management at Cazenovia College in New York. "Equine offerings continue to grow, which is not the case with all types of college programs."
There are about 150 equine undergraduate programs in the United States, Bump said, and they come in many different forms.
"We have over 160 individual members, and what amazes me the most is the remarkable variety of people we have at the table. There's a high level of energy and excitement about what's going on in the industry.
"There are clusters of programs around the country, and Kentucky is certainly a hot spot for equine academic programs," she said. "I'm most familiar with Midway (College), the University of Louisville and UK, which has done an outstanding job setting up its program. Besides Colorado State, UK is the only land-grant institution that has a stand-alone equine degree. They decided the program deserves its own place, and it celebrates the diversity in the equine industry."
UK's Equine Initiative program draws a number of areas of study under one umbrella, then adds extensive equine learning to the curriculum. Launched in 2007, the program took shape with extensive input from equine industry leaders.
"We came up with concepts and courses, then took that to people and asked them what they thought the program needed to look like," Coleman said. "We talked to a lot of individuals.
Students can specialize in one of two tracks, equine science or equine management, while earning a bachelor of science degree. Departments involved are Agricultural Economics; Animal and Food Sciences; Biosystems and Agricultural Engineering; Community and Leadership Development; Entomology; Hospitality Management; Landscape Architecture; the Livestock Disease Diagnostic Center; Plant and Soil Sciences; and Veterinary Science via the Maxwell H. Gluck Equine Research Center and Equine Parentage Verification Laboratory.
"We're very lucky to also have a strong research base here," Coleman said. "That allows us to do things a bit differently and see the industry through science's eyes.
Farm owners prompted Midway launch
The popularity of equine studies has prompted Midway College to expand its facilities. A new $5 million equine learning center is expected to open at the end of this year. "It will have an equine lab, teaching areas, and we'll move faculty offices there as well," said Dr. Janice Holland, associate professor of Equine Studies.
Nestled amid Woodford County's stately farms, Midway will have 120 students pursuing four-year equine studies degrees this fall. The program was established in 1977.
"The first degree was a two-year degree in Equine Office Administration," said Holland. "Thoroughbred farm owners had approached Midway to launch it because they were having a hard time finding qualified employees for their offices."
Equine Management was added in the mid-1980s, she said.
"One thing that makes Midway unique is that our equine facilities are right on campus," she said. "You can literally walk right out of the classroom and into the field or barn, so you can apply what you're teaching while it's fresh."
The University of Louisville's Equine Industry Program was established in 1986 in its College of Business by the Kentucky General Assembly after several legislators attended the University of Arizona's racetrack industry seminar. It's the only equine B.S. degree in business administration accredited by the AACSB (Association of Advance Collegiate Schools of Business).
"There was the feeling in the equine industry that a higher level of business professionalism was needed," said Rich Wilcke, UofL program director since 2006 and a professor since 1995. State legislators who'd been to Arizona wanted Kentucky to have a similar program, and Dr. Donald Swain, then UofL president, successfully pursued landing the program at Louisville.
Some 250 students have graduated from the program – among them Jockey Club Executive Director Matt Iuliano, World Games Foundation COO Rob Hinkle, and top racing Quarter Horse trainer Heath Taylor.
Admission requires a 3.0 GPA. Equine majors take the entire business curriculum encompassing accounting, computer information systems, economics, entrepreneurship, finance, marketing and management, plus an equine core of a dozen courses on application of those disciplines to horse enterprises.
"We're trying to totally differentiate ourselves from other equine degrees," said Wilcke. "If you have a business degree, you can walk into any industry, not just the equine industry. It's a saleable, marketable skill."
UofL offers a post-baccalaureate certificate in equine business for those completing its suite of eight applied-equine courses. It'll be available online next year.
Therapeuptic riding takes off at Asbury
Asbury College, in Wilmore, has seen growth in a unique equine career path it created as well. One of its two courses of study, Equine Assisted Wellness, is a holistic therapeutic riding program.
"As far as I know, our approach is the only one of its kind in the country," said Professor Harold Rainwater. "It focuses on total wellness – physical, mental, emotional, spiritual. The students take courses in both therapeutic riding techniques and in psychology."
Asbury's equine studies program, which started with two students pursuing a minor in 2002, is expected to number 90 students pursuing a major this fall.
The Asbury program got a boost with the construction of a $500,000 indoor arena with stalls in 2007. Its opening resulted in higher enrollment, said Rainwater.
"The growth has been phenomenal," said Rainwater. "The horse industry is pretty tough to break into right now, so we've found you need to reinvent yourself. We're a growth industry, in an industry that's not in a growth mode. We've grown by 20 students each of the last three years.
"We hope to create a pre-vet track in the very near future," Rainwater said. "That's another market niche. But our students are what are selling this program. We're getting people in the market, and that's giving validity to our young program."
Asbury's equine management degree includes courses in facility and event management, business operations and equestrian organizations. The equine-facilitated wellness degree adds psychology courses.
An important part of the economy
Morehead State University has an equine option for its agriculture science bachelor's degree.
"We teach of lot of equine courses such as reproduction, health, but we also teach ag science," said Dr. Tammy Platt, MSU's equine program coordinator. "Agriculture is one big system: Soils are related to forage and nutrition, and so on."
Morehead also offers hands-on experience with horses, including breeding. Horses impact Kentucky's economy, she said, and training students to be a part of it is important.
"When you consider the money involved in the equine industry in this state, it's a huge impact," Platt said. "It's hard to quantify, but if you had an accurate measuring tool, that would present an even stronger argument for our programs as a whole."
Murray State University first offered equine studies as a part of an agricultural science degree in 1971. It spun off equine science into a full bachelor degree program some 15 years ago, and added an equine management option a couple of years ago, said Daniel Pugh, Murray State's equine center manager. There are about 380 Murray students this fall in the overall animal science degree program, which includes a food animal emphasis.
"We've really seen this program take off," Pugh said. "It started with three riding classes and three lectures. Now we have 10 riding courses and dozens of lecture options."
Like Midway, Murray has horses, students and professors close together. Built five years ago on the West Farm about a mile from the main campus, the $1.6 million Equine Instructional Facility has an indoor arena and stalls, with classrooms and offices in an adjacent building.
"And we've also recently built an additional barn to house the university's horses that cost around $580,000," said Dr. Tony Brannon, dean of the School of Agriculture. "The university owns 65 horses that we use in our programs, and we have another 80 or so student-owned horses.
"Allowing students to bring their horses with them is a big benefit. We also have the only rodeo team in Kentucky. That attracts 55 or 60 students every year.
'We can't offer enough courses'
Western Kentucky University first offered an equine science emphasis to its agriculture degree in 1978.
"We normally have between 45 and 60 students," said Dr. Charles Anderson, director of the Horse Science Program. "Some take classes as a vocation, and others as an avocation. The number of students that plan to make equine their life's work has stayed pretty steady, but the number of students who approach it as an avocation has really grown. We can't offer enough courses for those."
Anderson said WKU is close to completing a new 40-stall barn to house the University's herd, at a cost of some $500,000. An enclosed riding arena is nearby, and Western also has 900-acre farm and a large Expo Center. "We use the Expo Center and also lease it to other groups," said Anderson.
Although it does not offer an equine degree, Georgetown College applies equine applications to other fields of study with the Equine Scholars program it created in 2004.
The program will have 42 students this year after graduating 14 last spring. Each student accepted into the program receives a $1,000 scholarship. Many of the scholars go on to pursue a career in the equine industry, and three recent graduates are now employed by organizations located at the Kentucky Horse Park.