25,000 new applicants, 75,000 renewals
FRANKFORT, Ky. (Dec. 16, 2014) – More than 100,000 Kentuckians have newly applied for health care coverage or renewed their current plans through kynect during the first 30 days of open enrollment. Dec. 15 marked the deadline for individuals to sign up or choose a new plan in order for coverage to begin Jan. 1, 2015.
Since Nov. 15, a total of 101,114 individuals have either newly enrolled in a private health insurance plan, qualified for Medicaid coverage or renewed the private insurance plans they purchased last year through kynect.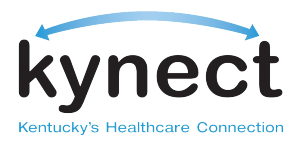 Over the past 30 days, more than 9,200 individuals have newly enrolled in one of the private health insurance plans offered through kynect. Of those, more than 6,000 qualified for some level of financial assistance to help cover a portion of their premium costs. Another 75,700 individuals have auto-renewed the private health insurance plans they purchased last year through kynect. An additional 16,100 met eligibility requirements for Medicaid, the majority of which qualified for coverage under the expansion. An individual's income must fall below 138 percent of the Federal Poverty Level to qualify for the Medicaid expansion. This equates to an individual making less than $16,000 a year or a family of four with an annual household income at or below $36,000.
Open enrollment continues through Feb. 15, 2015. Those who need health insurance are encouraged to log on or contact an insurance agent or kynector to see their options for quality, affordable health coverage in 2015.
The following statistics are current as of 12 p.m. on Tuesday, Dec. 16:
 262,435 unique visitors viewing more than 9.2 million pages;
 159,184 individuals have conducted preliminary screenings;
 209,871 calls have been handled by the kynect contact center;
 15,734 new accounts have been created;
 3,868 people have downloaded the new kynect app;
 38,309 new applications for coverage have been submitted;
 16,139 have enrolled in Medicaid coverage;
 75,760 individuals have renewed their enrollment in a qualified health plan;
 9,215 individuals have newly enrolled in a qualified health plan;
 5,407 individuals have enrolled in dental plans; and
 4,256 visitors to the kynect store at Fayette Mall in Lexington have completed 2,343 applications for new coverage.