Equipment used to process SNAP benefits
FRANKFORT, Ky. (Dec. 17, 2014) — Kentucky farmers' markets and vendors that currently do not accept SNAP benefits can start doing so by signing up to receive free EBT equipment on Jan. 5 during the 2015 Kentucky Fruit and Vegetable Conference.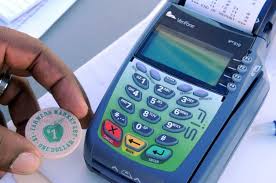 Supplemental Nutrition Assistance Program (SNAP) benefits, formerly known as food stamps, are issued electronically via Electronic Benefit Transfer (EBT), which works like a debit card. Equipment is necessary to process a SNAP purchase using the EBT card. Some markets and vendors may qualify for free wireless equipment.
Markets and vendors can sign up for EBT equipment between noon and 7 p.m. in the Keeneland Conference Room on the first floor of the Embassy Suites Hotel, 1801 Newtown Pike in Lexington.
Requirements to sign up:
Email address
Identification card or document with a photo, such as a driver's license, military-issued ID, or passport
Social Security card or other official document with name and Social Security number; and
Copy of a voided check for the bank account that will be used to deposit funds.
A SNAP/EBT workshop will be held from 4:10-5 p.m. in Coldstream Meeting Rooms 1 and 2 at the hotel.
Sign-ups will continue after the workshop. Those interested in signing up can email Sharon Spencer at [email protected].