89-count indictment alleges thefts from lighting systems at interchanges
FRANKFORT, Ky. (Dec. 23, 2014) – A Clark County man and woman have been indicted on felony charges involving theft of copper wire from lighting systems on Kentucky highways.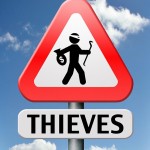 A Franklin County grand jury returned an 89-count indictment on Monday, Dec. 22, against Aaron Ferguson and wife Cindy Ferguson. The charges were developed with the assistance of an informant responding to a $2,500 reward by the Kentucky Transportation Cabinet (KYTC). Aaron Ferguson is in Clark County jail, where both were charged in a string of thefts. The investigation of the theft by the KYTC Office of Inspector General coincided with several burglary and vehicle break-in investigations by Clark County Sheriff Berl Perdue Jr. The two agencies cooperated to apprehend the Fergusons.
Both Fergusons were indicted on 22 counts of theft by unlawful taking or disposition amounting to $500 or more but less than $10,000 and 22 counts of first-degree criminal mischief. Aaron Ferguson also was indicted on 45 counts of being a persistent first degree felony offender. All 89 counts are Class D felonies punishable by 1 to 5 years in prison each.
Kentucky Transportation Secretary Mike Hancock said it was hoped the indictment will put an end to a crime wave that has victimized KYTC and Kentucky taxpayers who ultimately pay the bill for replacing wiring and repairing vandalized lights. Said Hancock, "Theft of copper wire from highway lights has caused millions of dollars in damage – damage that far exceeds the value of the wire when it is sold for salvage. It's a double loss to taxpayers because the cost of repairing our lighting systems takes away from other maintenance responsibilities of the Transportation Cabinet."
To support the 22 theft counts, the indictment details 22 incidents, from April through November 2014, in which copper wire was illegally taken from lighting systems on interstates and parkways in nine counties – Bath, Fayette, Franklin, Grant, Jefferson, Laurel, Nelson, Scott and Woodford. The crimes occurred on Interstates 64, 65, 75 and 265 and the Bluegrass Parkway.
Corresponding with the 22 theft counts are 22 criminal mischief counts for damage to the KYTC lighting standards. Each of the theft and criminal mischief charges supports a persistent-felon charge against Aaron Ferguson.
Evidence amassed against the Fergusons was turned over to Franklin County Commonwealth's Attorney Larry Cleveland, who presented the case to the Franklin County grand jury on Monday. The grand jury returned the indictment the same day. The charges were brought in Franklin County because it is the seat of Kentucky state government and site of the KYTC headquarters.
In October, KYTC and Kentucky State Police jointly announced a reward of up to $2,500, paid from KYTC maintenance funds, for information leading to criminal prosecution of those responsible for copper wire theft from highway lights. The offer is open to anyone providing necessary information; informant's identities are kept confidential.
Secretary Hancock announced that the reward remains in effect and said, "It's hoped this indictment will be a deterrent to further copper thefts on our highways, but we cannot make that assumption."