Campaign begins Monday in Louisville
LOUISVILE, Ky. (Jan. 13, 2015) — Louisville sisters Sam and Alex Kimura and friend Taylor Shorten will begin their 50-state tour to register 50,000 bone marrow donors on Monday with a kickoff party from 6-9 p.m. at Against the Grain Brewery and Smokehouse.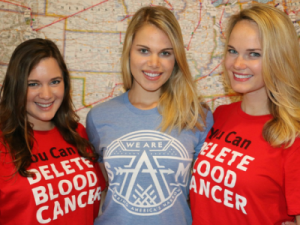 Sam was diagnosed with severe aplastic anemia when she was 17 and couldn't find a match for a bone marrow transplant. While she was able to receive alternative treatment, she co-founded Sharing America's Marrow (SAM) campaign in an attempt to raise awareness and help others.
SAM has registered more than 3,300 donors in Louisville since September 2014, thousands of which signed up at the donor drives hosted in honor of 15-year-old Trinity High School student and leukemia patient Owen McMasters. Owen was able to find a bone marrow donor and is now recovering from his bone marrow transplant.
It only takes is a cheek swab and consent form to join the bone marrow donor registry.