Sales slightly down from last year
LEXINGTON, Ky. (Jan. 16, 2015) — A total of 948 horses were sold for gross receipts of $35,305,500 at Keeneland's 57th annual January Horses of All Ages Sale. Numbers were down from 2014 when 1,027 horses were sold for $41,025,700.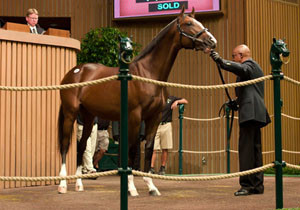 The average of $37,242 decreased 6.8 percent from last year's $39,947. The median was down 20 percent, from $20,000 to $16,000.
"Two years of strong increases followed by the consistent results we've experienced this year show the market is reaching stability," Keeneland vice president of sales Walt Robertson said. "The environment now creates buyer confidence and provides a foundation on which to build the future."
Keeneland's next auction will be the September Yearling Sale, from Sept. 14-26.