Will feature 10 retired racehorses
GEORGETOWN, Ky. (Jan. 19, 2015) — Old Friends Equine, the Thoroughbred Retirement Farm in Georgetown, and Kentucky Downs in Franklin, announced a partnership that will create an Old Friends satellite facility at the historic racecourse.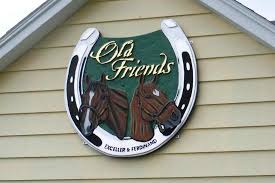 The horse exhibit, "Old Friends at Kentucky Downs," is expected to launch in May and will be open to the public for the summer season. It will showcase 10 retired racehorses-including athletes with a history of running at Kentucky Downs-via public tours coordinated by the Simpson County Tourism Commission. In addition, an adjoining visitor's center and an Old Friends gift shop will be housed in a newly renovated structure on the Downs stable area.
The joint venture is expected to help raise awareness of retired racehorses and the need for Thoroughbred aftercare, to increase tourism and to promote local attractions in Simpson County.
Old Friends conducts daily tours and attracts nearly 20,000 visitors each year. The farm is home to more than 100 of the organizations 150 retirees, including Kentucky Derby and Belmont Stakes winners.