By Mark Green
LEXINGTON (January 20, 2015) — Lexington city government is focusing on quality of life issues to attract and keep the workforce talent that is central to economic success, Mayor Jim Gray said Tuesday during his annual State of the City speech, at which he pronounced the community's status to be "strong and promising."
"Past performance is the best indicator of future performance," Gray said, who is beginning a second four-year term in office. "We got things done. We're getting things done. And the best is yet to come."
Gray cited the University of Kentucky as a key to current and future success. UK and the city had a significant point of conflict last year when the university pulled out of and for the time scuttled ambitious plans the mayor had initiated to update the Rupp Arena and convention center complex while creating a massive Town Branch Commons park that would uncover the long buried waterway through downtown along which Lexington was founded in 1775.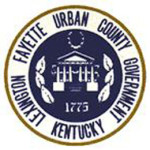 However, Gray and UK President Eli Capilouto dined side by side at the speech luncheon, traditionally one of the largest gatherings of Lexington's top private and public sector leaders, and smilingly conversed comfortably. During his address, the mayor praised the university's 12th president, who since arriving in 2011 has initiated more than $1.3 billion in campus infrastructure upgrades.
"UK is growing and thriving under President Eli Capilouto," Gray said. "It is our largest employer and, in recent years, our largest source of job growth. Even more, UK is our cultural, intellectual and economic anchor and engine. A growing and thriving university leads to a growing and thriving city."
Without offering details, the mayor thanked UK for working with the city on its stated goal to become a "gigabit city" – offering business and residential customers Internet access service at speeds of 1 Gb or more per second, which is 60 to 200 times faster than typical current service offerings.
"While cities with rivers and railroads had an advantage in the industrial age; knowledge and ideas are what power today's information economy, and knowledge and ideas are carried on fiber," Gray said. "We must have it to compete."
UK's campus – as is the University of Louisville – is connected to the national ultra-high-speed Internet backbone.
Among other accomplishments and goals the Lexington mayor cited were:
An unemployment rate that has halved in four years from 8.8 percent to 4.4 percent.
Investing almost three quarters of a billion dollars since 2012 in public safety, including new police officers, new firefighters, a new Emergency Services Center, new ambulances and fire trucks and new cruisers.
Reducing urban county government unfunded pension liability for police officers and firefighters by $116 million, which Gray said one national actuarial firm had assessed as "the most effective reform in the country."
Restructuring employee health insurance and creating an internal local government care clinic to save money for employees and save the city "roughly $12 million a year."
Reducing by $60 million the estimated $600 million price tag for fixing the city's sewer and storm drain system over the next 11 to 13 years under an EPA decree.
Launching a Mental Health Court program and a Housing First project targeting the mentally ill and homeless, largely overlapping demographics whose individual members, Gray said, can generate public costs of $100,000 a year for a mentally ill person who wanders the streets, spends time in jail, shelters and hospitals, and cycles through the court system without ever getting the treatment they need.
Gray said the Lexington budget he plans to introduce next month will include funding to begin planning for a revived Town Branch Commons park project and to rehabilitate the historic former Fayette County Courthouse building in the center of downtown that has been closed for several years due safety issues.