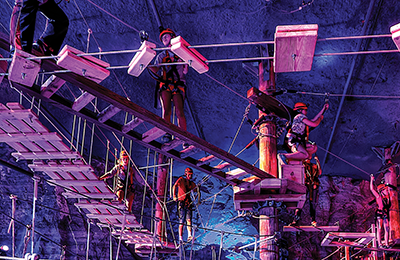 Like the perfect family vacation, the ideal corporate getaway – whether for a meeting, a bonus or team building – can sometimes be tricky to track down. After all, more than one individual's interests and capacities must go into the decision-making pot. Turns out Derby City has a spectacular destination that's both a meeting planner's dream and loads of fun for families, from kids to grandparents.
Snaking for 17 miles of man-made corridors under the city, Louisville Mega Cavern offers a multifaceted adventure, complete with a ropes challenge course, zipline, tram tour, meeting space and seasonal lights display. Ceiling heights range from 24 to 90 feet. And all underneath the Louisville Zoo and a business park.
Mega Quest
Only one of 20 courses of its kind in the U.S., the cavern's Mega Quest is the world's only fully underground aerial ropes challenge course, which has become a popular above-ground extreme sport in Europe. "The course is an overgrown jungle gym," said Kricket Mullins, Mega Cavern supervisor. "Parts are definitely challenging. Even marines have tapped out on it." Among the course's 77 obstacles are swing bridges, free-swinging hanging boards, a couple of ziplines and cable tight ropes. "Our suspension bridges are high up in the air and dark, which provides a great opportunity for one team member to encourage another to overcome a fear of heights," he added.
A ticket gets you three hours on the course, which all ability levels and ages from five years old up can enjoy. Safety is the byword here, and each participant wears more than $800 worth of gear similar to that of rock climbing that includes a full body harness, trolley system, two heavy duty lanyards with safety clips and a helmet fitted with a miner's light.
Open all year round, the Mega Cavern stays at a constant 58 degrees, for a cool summer or warm winter experience. Depending upon space availability, walk-ins are welcome, though reservations are suggested.
Mega Zips
Another challenging option in the cavern, Mega Zips, is ranked by Trip Advisor as Louisville's No. 1 attraction. It features six underground ziplines – one being a dual racing zip (yahoo!) – and two challenge bridges in an area of the cavern not otherwise open to the public, with 70-to-90-foot ceilings. A.C.C.T. (Association for Challenge Course Technology)-trained guides lead the two-and-a-half-hour zip tours, filling a maximum of 12-to-15 participants in on history and geology along the way.
Got a fear of heights? No problem, as the tour begins with a 15-to-20-minute orientation and training starts on a short zip line before beginning the main line. Guides double-clip folks to a sturdy steel cable and chat with them, answering all questions and providing safety information along the way.
Mega Cavern history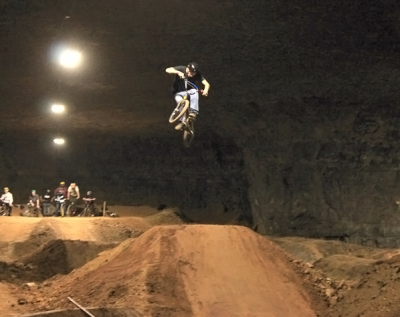 For 42 years during the mid-20th century, this massive attraction was a limestone mine, active nearly 24 hours a day. Private investors acquired the property in 1989 and developed a portion of it into an environmentally conscious, high-security, commercial storage facility. Since the 1990s, enormous amounts of recycled concrete, brick, block, rock and dirt have been, and continue to be, off-loaded into the cavern to fill in holes and create floors and internal roads. Ongoing construction carves out offices and storage space in a tiny section of this 4,000,000-s.f. cavern. Though below ground, the Mega Cavern is both the largest building and by tonnage, the largest recycling facility in Kentucky.
Mega tram tour
Learn more about its fascinating history on a 60-to-70-minute Mega tram tour, liberally spiced with info about geology, mining, recycling and green building technology. In addition, with this SUV-pulled tram, folks who'd rather ride than walk, climb, balance or zip can see a historic replica of the Cuban missile fallout bunker, a worm recycling and tasting room and early cavern formations, and also can hear about the cavern's Storm Dog and its pigeon-eating hawk. Call ahead to reserve a wheelchair tram.
Mega meeting and event site
For groups in search of an offsite venue – for meetings, traditional team building exercises, school field trips, family reunions or perhaps a wedding site for a spelunking couple – the cavern has 16,000 s.f. of space large enough for 250 people at a sit-down dinner and 350 for meetings. A fully equipped area with available catering that's 100 feet underground can accommodate 200.
Lights Under Louisville
Mark your 2015 calendar now for the cavern's annual Lights Under Louisville. You can drive your own car on a 30-minute ride underground to ogle some
2 million lights with 850 lit characters in one of USA Today's Top 10 Christmas Lights Shows in the nation.
To find out more about the Mega Cavern, visit louisvillemegacavern.com or call (877) 614-6342 (MEGA) or (502) 855-6342. For group sales and special rates for 12 or more: [email protected] or (502) 855-3581. ■
— Katherine Tandy Brown is a correspondent for The Lane Report. She can be reached at [email protected]