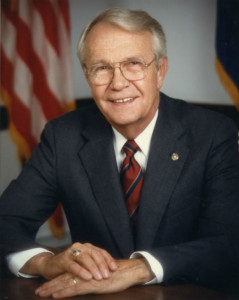 Wendell Hampton Ford, former Democratic Kentucky governor and U.S. Sentaor, died today at his Owensboro residence at the age of 90. He is reported to have been battling lung cancer. He served in elected position for 33 years and is the only Kentucky politician to be serve as lieutenant governor, governor and senator in consecutive terms.
Ford was known for his wit, wisdom and his continual energy. Many remember him as one of the most likable public officials to take the national spotlight and potential candidates often sought his advice and approval before launching their campaigns. While governor, he pushed through legislation enacting the severance tax on coal and other minerals. That in turn gave him the ability to shepherd legislation removing grocery taxes, a move which produced a lasting political popularity.
He graduated from the University of Kentucky in 1947 with a business degree, and a law degree in 1950. He practiced law in Hopkinsville, and ran for and was elected to the Kentucky Legislature in 1951 and, in 1952, became widely known as president of the Kentucky Young Democrats where he was active in Adlai E. Stevenson's presidential campaign.
His political star rose quickly and he won elections as a state senator in 1965, lieutenant governor in 1967, governor in 1971. He served in the U.S. Senate from 1974 until January of 1999 and held the positions of Senate Majority Whip ('91-'94) and Minority Whip ('95-'99).
He was born September 8, 1924 in Owensboro and married Jean Neel in 1943. He served in the U.S. Army during WWII (1944-1946) where he achieved the rank of Technical Sergeant, and the Kentucky National Guard (1949-1962) and left there as a First Lieutenant. He served as Lieutenant Governor under Louie Nunn from 1967-1971, and as governor from 1971-1974. His full biography and details of his rich political career and life can be found at this link to Wikipedia: Wendell Hampton Ford