Will now take place over eight days
LOUISVILLE, Ky. (Jan. 22, 2015) — The Kentucky State Fair Board today voted to extend the World's Championship Horse Show, held during the Kentucky State Fair, by an extra day beginning this year.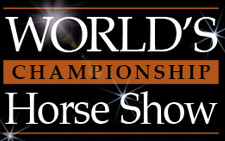 Held in Freedom Hall, the prestigious Saddlebred show will now begin on the first Saturday of the Fair for an eight-day run, rather than the first Sunday. The finals will continue to be held on the last Saturday night.
In past years, Freedom Hall played host to a Saturday evening concert. However, with flagging ticket sales over the past few years and increased demand for additional horse show classes, today's vote was overwhelmingly in favor of providing another evening for Saddlebreds.
Kentucky State Fair Board President and CEO Rip Rippetoe added that there will be a concentrated marketing effort to bring fairgoers to the World's Championship Horse Show.
"We want to attract more fans and novices alike to experience this show that is already renowned around the world with horse enthusiasts," Rippetoe said.
The 2015 dates of the World's Championship Horse Show are Aug. 22-29.