Will open in January 2016
LOUISVILLE, Ky. (Jan. 23, 2015) — Louisville's new downtown bridge is expected to be completed three months ahead of schedule, Gov. Steve Beshear announced today.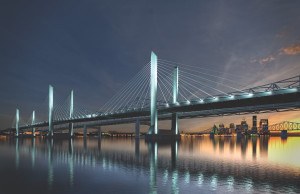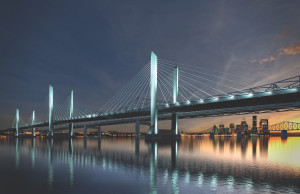 The Kentucky Transportation Cabinet (KYTC) has sped up construction of the bridge, part of the Downtown Crossing of the Ohio River Bridges Project, to allow for more extensive improvements that will extend the life of the 51-year-old John F. Kennedy Memorial Bridge.
Under the accelerated schedule, the bridge is expected to open in January 2016. At that time, it will carry both northbound and southbound I-65 traffic.
When the new bridge opens to traffic, the Kennedy Bridge will close to allow Walsh Construction to build a new floor system. The improvements should eliminate the need for major repairs and traffic disruptions on the Kennedy Bridge for decades.
The $22 million cost for the expanded work and accelerated schedule is already in the project budget. The money will come from a contingency account designed to cover unanticipated changes or needs in the project.
A new floor system will be built on top of existing floor beams, with new stringers and bearings for the length of the Kennedy Bridge. The original plan called for redecking the Kennedy Bridge, with limited steel repairs. KYTC officials determined additional work would be needed after a thorough inspection last year.
Relates news: 
Online videos detail Ohio River Bridges Project Downtown Crossing project
New West to lead marketing on electronic tolling system for Ohio River Bridges Project