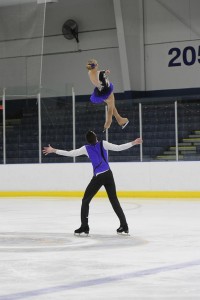 Kate Finster, 11, wins novice pairs division
LOUISVILLE, Ky. (Jan. 23, 2015) — Louisville resident Kate Finster, 11, won a gold medal on Wednesday in novice pairs at the U.S. Figure Skating Championships in Greensboro, N.C. Finster is the youngest skater to win gold in the novice pairs division.
Finster, whose home base is the Louisville Skating Academy, competed with Eric Hartley, 14, of Cincinnati. The pair had the top score in free skate, at 77.80, and the third best score in the short program, 35.11, finishing with an overall score of 112,91, more than three points better than the second place team.
Sonia and Christopher Elder, also of the Louisville Skating Academy, won gold in intermediate dance with a score of 103.54. They finished first in every skate, getting the best score in free dance (55.24), European waltz (24.57) and rocker foxtrot (23.72).
Another Louisville Skating Academy member, Chase Finster, won a silver medal in Juvenile Boys, scoring 46.62 points.