Agreement would limit tolls, share cost to create fairness
COVINGTON, KY (Jan. 28, 2015) — Gov. Steve Beshear and Ohio Gov. John Kasich are developing a cost-saving plan that limits tolls and moves forward with improving the Brent Spence Bridge Corridor. The plan:
Lowers the project's price tag through innovative solutions in design, construction and financing
Splits costs and toll revenues evenly between Ohio and Kentucky
Provides a 50 percent discount in toll rates for frequent commuters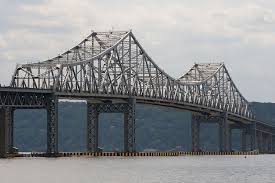 Kentucky and Ohio are working together to develop cost-saving solutions by March 30 and build a viable financial plan before year's end. The plan is expected to include a public-private partnership to build, maintain and finance the project.
The bi-state team will focus on the federally approved 2012 environmental plan for the corridor, which calls for building a new bridge downtown, revamping the existing Brent Spence Bridge and improving interstate approaches in Northern Kentucky and downtown Cincinnati. The current plan would double the number of interstate lanes across the river from eight to 16, relieving congestion that causes major safety, mobility and congestion problems for the region.
"We simply cannot afford more delay, distraction and gridlock – on the interstate or in the halls of government," Beshear said. "The Brent Spence Bridge corridor must be expanded to meet the safety and mobility needs of a growing, prosperous region. Jobs and lives depend on it."
Inflation costs are driving up the project's price tag by $7 million every month. A five-year delay in construction would increase costs by more than $400 million, driving the current total over $3 billion.
The Kentucky Transportation Cabinet, the Ohio Department of Transportation and their consultants are scrutinizing the current $2.6 billion replacement plan, identifying potential changes in design, construction and financing approaches to lower the overall costs.
Kentucky Transportation Secretary Mike Hancock said he's confident the team will find "smart solutions and significant savings" such as those that broke a decades-long stalemate on the Ohio River Bridges Project in Louisville and Southern Indiana.
Indiana and Kentucky transportation officials sharply reduced the project's price tag, which moved the states from conversation to construction in 2013. The Louisville area project—which includes two new bridges, a refurbished bridge and new downtown interchange connections on both sides of the Ohio River—had a $4.1 billion cost before Beshear and then-Indiana Gov. Mitch Daniels sought cost reductions and innovative approaches. The result was a $2.3 billion project, which is under construction and slated to open by the end of next year.
The Beshear-Kasich agreement would provide a 50 percent discount in toll rates for frequent commuters who must cross the river almost daily for work, school and other needs. The discount is similar to the commitment reached on Indiana and Kentucky's joint Ohio River Bridges Project.
"We believe the folks who use the bridges most deserve a significant discount," Beshear said. "It's a matter of fairness."
The governors' plan calls for states to split construction costs and toll revenues on the project. The 50-50 split will ensure both fairness and cooperation in developing improvements that serve citizens, businesses and travelers on both sides of the Ohio River.
Pending approval by lawmakers in early 2016, the states could select a project team as soon as late 2016 and begin construction as soon as 2017.
Related news:
Northern Kentucky forum to
 examine Brent Spence funding options
Kentucky, Ohio agree to cooperate, fast-track funding plan for new Brent Spence Bridge