Automotive manufacturer to add a new shift, create 20 jobs
FRANKFORT Ky. (Jan. 29, 2015) —Gov. Steve Beshear today announced that Lincoln Manufacturing (LML) plans to expand its operations in Lincoln County.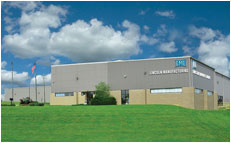 LML, a metal stamping manufacturer, is expected to create up to 20 jobs and invest $400,000 into the project.
Due to steady growth over the past several years and plans to create new products, LML expects to hire more workers to keep pace with demand. The new workers, who are already being hired, will allow the company to start a third shift at its facility on Industrial Park Drive in Stanford.
"Our latest expansion is a big move for Lincoln Manufacturing," said Masato Sugimura, president and owner of LML. "There will be some additions of equipment, but mainly we will be focused on the hiring and training qualified people."
LML manufactures and stamps parts for the automotive industry and is a supplier to some of the world's largest manufacturers. The company, which currently has more than 100 employees, began as a joint venture with Japan-based Toshin Company in 1995. In 2002, Lincoln separated from its Japanese parent company and is now solely owned by Sugimura.
To encourage the investment and job growth in Stanford, the Kentucky Economic Development Finance Authority preliminarily approved the company for tax incentives up to $225,000 through the Kentucky Business Investment program. The performance-based incentive allows a company to keep a portion of its investment over the term of the agreement through corporate income tax credits and wage assessments by meeting job and investment targets.