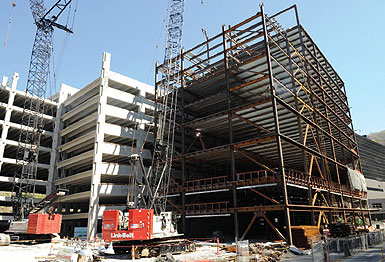 LIKE their counterparts around the nation, Kentucky construction contractors are battling through a fourth lean year. There is less work and lots more competition to get it. U.S. construction activity today is at least 10 percent lower than it was 12 years ago.
Some improvement will come by year's end when dozens of contracts for work on the Ohio River Bridges Project in Louisville start going out. It's a $2.6 billion project that will take five years to complete. Additionally, University of Kentucky Board of Trustees members in February authorized UK President Eli Capilouto's administration to begin the first project in what will be a $500 million upgrade of campus housing.
Other projects have kept at least some Kentucky contractors busy the past few years, too. UK last year finished the main, $538 million first phase of its Chandler Medical Center. Only a few blocks down the street, Central Baptist Hospital has a $200 million expansion underway. Pikeville Medical Center held a topping out ceremony early this month for work on its $130 million expansion. Owensboro Medical Health System's 477-bed, $385 million hospital project is slated for completion in spring 2013.
Ford just finished spending roughly $600 million to rebuild its Louisville Assembly Plant, which this month begins producing the next generation of the Escape compact SUV, and it is about to put a similar amount into an update of its Kentucky Truck Plant in eastern Louisville. GM is putting $130 million into an expansion and upgrade of its Corvette plant in Bowling Green, where local officials are completing a $150 million capital investment project focused on the downtown.
Those projects during the recession and lingering economic downturn that began in 2007 and 2008 have been invaluable because overall construction activity has fallen sharply.
"I've lost more members this year due to business closure than I have the last two years combined," said Richard Vincent, executive director of Associated General Contractors Kentucky.
Conversely, however, ACG-Ky was recognized recently as the U.S. chapter with the most growth. Vincent credits it to the fact that contractors are pursuing every angle they can, and ACG-Ky is a strong advocate for the industry in Frankfort.
"We're still seeing 14 and 16 bidders on a project that five years ago would have had four or five bidders," Vincent said. Companies
are bidding on jobs at break-even cost or even occasionally at a loss so they can keep dollars coming in to keep the doors open.

'Focused on surviving in 2012'
"It's not limited to a specific division, a specific sector, a specific type of work. It's across the board," he said. "We find very, very few companies that are thriving in 2012. They are focused on surviving 2012. It's tough."
New York-based McGraw-Hill Construction tracks activity across the United States.
"For all of 2011, total (U.S.) construction starts slipped 2 percent to $421.4 billion, following the slight 1 percent gain reported for 2010," McGraw-Hill reported in January. "After the steep declines reported during the 2007-2009 period, when activity dropped a combined 38 percent, the overall volume of new construction starts has essentially stabilized at a low level during the past two years."
The December statistics produced a reading of 87 for the Dodge Index – whose scale is based on national construction activity in 2000 as 100 – down from November's revised 89. For all of 2011, the Dodge Index averaged 89.
Before the crash in activity in 2008, the Dodge Index was bouncing around in the 130 to 150 range.
"The pace of new construction starts continues to fluctuate within a set range, showing stability in a broad sense but not yet making the transition to renewed expansion," Robert A. Murray, vice president of economic affairs for McGraw-Hill Construction, stated for the January report. "Gains for a few project types are being offset by continued weakness for other project types, with the result that total construction is experiencing an extended bottom."
There are no Kentucky-specific statistics.
According to Kentucky Cabinet for Transportation figures, the state in 2011 completed 18 road projects of $5 million or more. They totaled just shy of $300 million.
There are 15 major road construction projects scheduled for 2012 totaling $372 million.

Beginning to see more projects go to bid
"Construction contractors are scrambling for work, especially those who work just in the state," said Steve Summers, executive vice president of Lexington-based Gray Construction and president of Associated General Contractors of Kentucky. "The Kentucky market is still pretty slow."
Summers' position at Gray offers perspective. Gray Construction, which specializes in large-scale industrial manufacturing projects, had its best year ever in 2011, which included large projects for Whirlpool in Tennessee, for Caterpillar and Siemens in North Carolina, and for Austal USA in Mobile, Ala.
"I consider it still depressed," Summers said of commonwealth construction industry activity. "Certainly things are still very aggressive in terms of competition and in pricing."
Within the past six to eight months there has been increased activity in projects being put out for bid, he said.
"Nationwide it's picking up, more in the area of manufacturing than elsewhere," Summers said.
In Kentucky, though, many contractors continue to struggle.
"A lot of it is they've just fallen back, gone to smaller projects," Summers said. "They're doing rehab work, residentialtype work. It's a mixture of things. Several have closed their doors and gone out of business."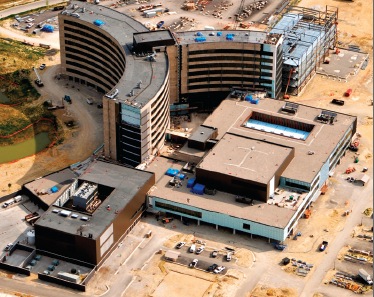 Figures that Vincent provided from an Associated General Contractors of America presentation last month show that construction employment in Kentucky improved by 2 percent from January 2011 to January 2012. Multi-family housing construction is growing and expected to improve this year and next.
"The construction industry is a resilient industry, a resilient profession," Vincent said. "However, we are competing now with a lot of companies coming into the state, large and small, that are adding that extra layer of competition."
Government appropriations for capital projects is expected to fall another 6 percent this year as tax revenues fall at the local level across the nation.
"The game has changed a lot the past decade and made it tougher to survive," Vincent said.