Some blockages remain on I-65, I-24 after phenomenal snowfall
FRANKFORT, Ky. (March 5, 2015) – State highway crews are slowly making progress in clearing traffic jams that delayed the plowing of travel lanes on Interstates 65 and 24 during a storm that pounded some areas with record snowfall.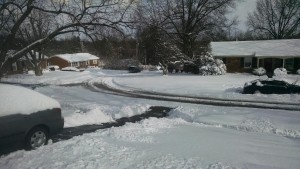 Gov. Steve Beshear declared a state of emergency–the second in less than a month–that authorized deployment of National Guard troops and other state resources. Beshear also urged people to stay off roadways unless absolutely necessary so road crews could do their work.
For highway crews, more daunting than the elements was a rash of jackknifed trucks and other stranded vehicles that blocked snow plows and other responders, especially on I-65, north and south of Elizabethtown, which was pounded with 21 inches of snow.
For Kentucky Transportation Cabinet (KYTC) crews, today has been a story of incremental improvement, alternating with new setbacks. For example, an all-night blockage of I-65 was beginning to clear by noon EST today, only to be temporarily thwarted on the northbound side when two commercial trucks jackknifed at mile markers 71 and 75 in Hart County.
Another significant blockage occurred on I-24 in western Kentucky, where multiple trucks jackknifed in Lyon, Trigg and Christian counties. I-24 traffic was moving again in both directions by mid-afternoon today, though much plowing and salting still was needed.
Compounding the emergency conditions on I-65 were blockages on other routes that ordinarily would have served as detours–among them, U.S. 31W, Bluegrass Parkway and KY 313 in Hardin County. U.S. 31W, known regionally as Dixie Highway, was particularly problematic because of trucks unable to navigate the incline known as Muldraugh Hill.
Making matters even worse, KYTC personnel from the Elizabethtown Highway District reported that some truckers and other motorists were refusing to allow tow operators to hitch up their vehicles due to the cost of a tow. Elsewhere, at least 57 counties, mainly in central, eastern and southeastern Kentucky, reported state routes blocked by high water or mud slides.