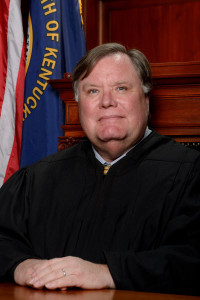 Event is in Frankfort
FRANKFORT, Ky. (March 19, 2015) — Justice David A. Barber will be formally sworn in as a justice of the Supreme Court of Kentucky at an investiture ceremony at 1:30 p.m. on Monday at the state Capitol in Frankfort.
Gov. Steve Beshear appointed Justice Barber on March 4 to serve as the justice from the 7th Supreme Court District. Justice Barber served as a Court of Appeals judge from 2000 to 2007 and has been an attorney in private practice and public service for more than 33 years.
Justice Barber was appointed to fill the vacancy created by the resignation of Justice Will T. Scott in January 2015.
The counties in the 7th Supreme Court District are Boyd, Breathitt, Carter, Elliott, Floyd, Greenup, Harlan, Johnson, Knott, Lawrence, Letcher, Magoffin, Martin, Menifee, Montgomery, Morgan, Owsley, Perry, Pike, Powell, Rowan and Wolfe.