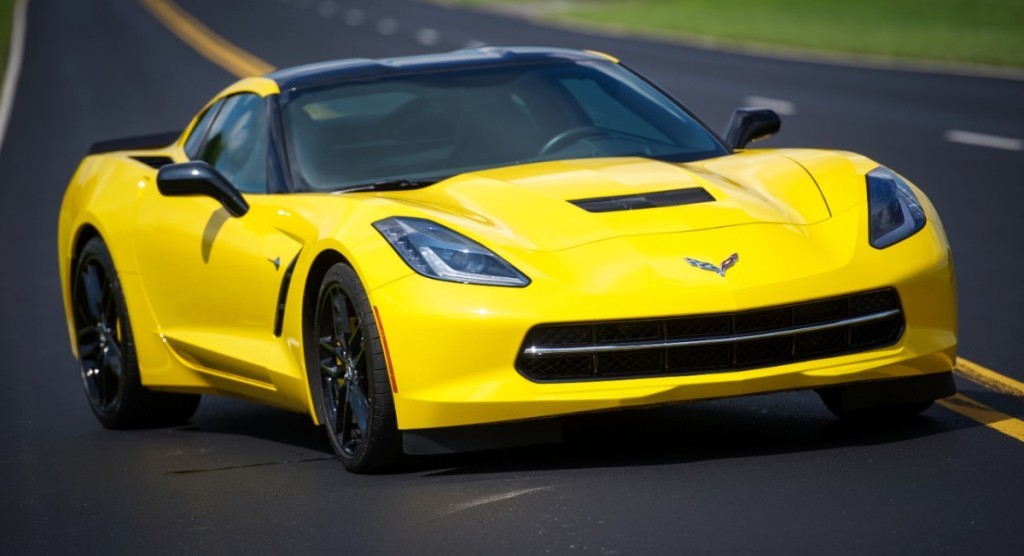 GM to build a 450,000-s.f. paint operation
BOWLING GREEN, Ky. (May 21, 2015) – A major expansion is in the works at the Bowling Green Corvette Assembly Plant.
Lieutenant Governor Crit Luallen joined General Motors' leaders and community officials to announce that GM will invest $439 million for facility upgrades, including a new paint shop. The 450,000-s.f. facility will be almost half the size of the company's entire operation in Warren County.
"For more than three decades, Kentucky and General Motors have shared a deep connection," said Gov. Steve Beshear. "This expansion only makes the relationship stronger and will create a foundation for future growth. I want to thank GM for its continued investment in the Commonwealth, and I look forward to Kentucky being home to the Corvette for generations to come."
"The Corvette is one of Kentucky's most-cherished icons," said. Lt. Gov. Luallen. "Such a significant expansion of the Bowling Green Assembly Plant will help the company remain competitive in the region and around the world."
The paint shop will receive substantial upgrades in technology, including new tooling, robots and state-of-the-art environmental and efficiency enhancements. Construction is planned to begin this summer and is expected to take approximately two years to complete. Vehicle production schedules will be unaffected by the construction.
"With this major technology investment, we can continue to exceed the expectations of sports car buyers for years to come," said North American Manufacturing Manager Arvin Jones. "These types of investments are evidence that the customer is at the center of every decision we make."
This latest investment builds on approximately $135 million invested in the plant over the last four years for the new seventh-generation Corvette and Performance Build Center. Last month, GM announced it would invest $5.4 billion in its U.S. facilities over the next three years.
GM began production of the Corvette at the Bowling Green plant in 1981, and the facility has remained the exclusive home of the Corvette for over 30 years. Known around the world as America's sports car, the Corvette is the world's longest-running, continuously produced passenger car with more than 1.6 million assembled.
Since the launch of the all-new 2014 Stingray, the car has experienced one success after another. Corvette sales reached 38,000 last year, and the plant hit a record year for public tours in 2014, welcoming almost 56,000 visitors from around the world.
"I am very excited to see General Motors making a major investment in the Corvette Assembly Plant in Bowling Green," said Rep. Jody Richards, of Bowling Green. "General Motors and Bowling Green have been great for each other, and this expansion demonstrates General Motors' commitment to keeping that partnership going well into the future."
"Since opening their doors in Bowling Green over 30 years ago, GM has been an excellent corporate citizen to our community," said Bowling Green Mayor Bruce Wilkerson. "We are delighted GM has chosen to expand here and are thankful for their support of Bowling Green. Today, I'm happy to congratulate GM on all of their successes and wish the company the best of luck in the future."
"Yet again, GM has proven south central Kentucky is an ideal location for companies by finding great success and continuing to invest in our region," said Warren County Judge-Executive Mike Buchanon.
"GM has set the standard of a successful business, and it's such a privilege to see their continued growth."
General Motors also is a founding member of the Kentucky Automotive Industry Association (KAIA). KAIA is an industry-led organization that is driven by the needs of Kentucky's expansive automotive industry. The association was formed hand-in-hand with Kentucky's OEMs and suppliers to address the challenges and opportunities of the industry. Learn more about KAIA at www.kyautoindustry.com.
For more information on the Bowling Green Assembly Plant, visit www.corvetteassembly.com.
Warren County has been certified by the Kentucky Workforce Investment Board as a Work Ready Community. The certification is an assurance to business and industry that the community is committed to providing the highly skilled workforce required in today's competitive global economy.
A detailed community profile for Bowling Green (Warren County) can be viewed here.
Information on Kentucky's economic development efforts and programs is available at www.ThinkKentucky.com. Fans of the Cabinet for Economic Development can also join the discussion on Facebook or follow on Twitter. Watch the Cabinet's "This is My Kentucky" video on YouTube.