LEXINGTON, Ky. (June 8) – The committee charged with building a festival to surround the Breeders' Cup World Championships announced an impressive and diverse week of programming for racing fans and all of Lexington today.
Speaking of behalf of the 40-plus committee members, chairperson Kip Cornett revealed the activities centered on Oct. 24 – 31. "This week promises to be unlike any other in our city's history," Cornett said. "Our guests from near and far will be treated to a range of entertainment, activities and hospitality unlike any other Breeders' Cup. The investments from our sponsors and the effort from our arts and hospitality sectors have been amazing. They will put on a great show."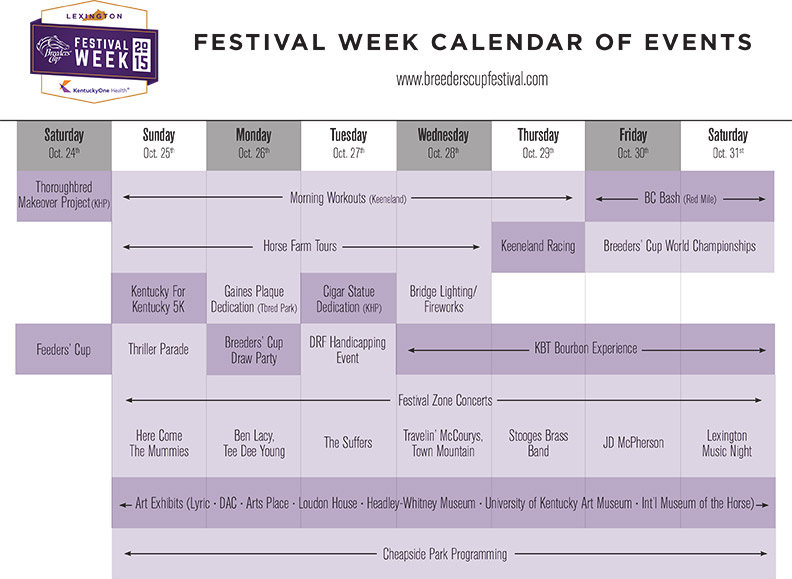 Lexington Mayor Jim Gray said the city is putting on its Sunday clothes. "We're cleaning up, sprucing up and gearing up for a week full of festivities. We're getting ready for our hometown, Keeneland and our Thoroughbred industry to be the center of attention on a world stage," Gray said. "This is the Horse Capital of the World, and the Breeders' Cup is an opportunity for us to show everyone just why we deserve that title."
There will be a wide range of offered programs including free outdoor concerts in both Courthouse Plaza and Cheapside Park, art exhibits and plays in various venues around the city, a food truck competition titled the Feeders' Cup, and the "Kentucky for Kentucky" 5k Fun Run & Walk.
Title sponsor KentuckyOne Health's Jeff Murphy lauded the committee's efforts stating: "For seven days and nights, our guests and citizens alike will be able to enjoy a broad array of fun and mainly free activities as part of Breeders' Cup Week. KentuckyOne Health is proud and excited to be a part of providing this experience for Lexington."
In addition to announcing the current calendar of events, Cornett called on local citizens to volunteer. "Our community can become involved on a personal level because we have numerous opportunities for volunteers. Our volunteer sign-up section is easy and live on our new website. Your help is needed to make sure this is not only a great week, but also ensure the Breeders' Cup will return in the future due to our hospitality and efforts."
The volunteer sign-up as well as the entire current calendar of events can be found on the festival's website at breederscupfestival.com.