Will open in fall 2017
RICHMOND, Ky. (Aug. 31, 2015) — Eastern Kentucky University held a "topping out" ceremony today outside Phase 2 of the new science building.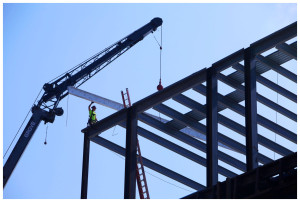 "The sound of progress," declared Paul Gannoe, director of capital construction and project administration, minutes before a beam signed by students, faculty, staff and others was lifted into place atop what will be largest science facility on a university campus in Kentucky when it opens in Fall 2017.
"There will not be anything like it in the Commonwealth of Kentucky," said EKU President Michael Benson. "We are so grateful to the state legislature, the Governor's Office, and to everybody who has supported us."
EKU is in the midst of a makeover that will ultimately include additional new or renovated academic facilities, a renovated student union, new recreation center, new dining facilities, new residence halls, a new welcome and alumni center, athletics facility upgrades, various landscaping enhancements, and more.
When Phase 1 of the $132 million, 340,000-s.f. new Science building opened in 2012, housing the Department of Chemistry and Department of Physics and Astronomy, the impact was immediate. Student achievement shot up, absenteeism went down, faculty collaboration and scholarship increased, and instructor evaluations improved. Officials expect a similar success story with Phase 2, which will house the Departments of Biological Sciences and Geosciences.
Dr. John Wade, dean of EKU's College of Arts and Sciences, said that one in 10 credit hours at EKU is generated by the four academic departments, which directly impact approximately 1,100 undergraduates, including almost 100 physics majors.
Gannoe said such "topping out" ceremonies date back to ancient societies, but EKU is looking only forward. Its next large capital construction priority is a new complex at the corner of Lancaster Avenue and the Eastern By-Pass to house the College of Education and Model Laboratory School.