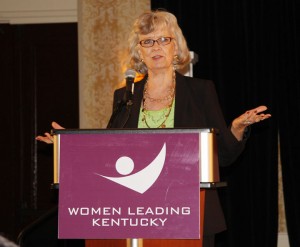 LEXINGTON, Ky. (May 9, 2012) — Women Leading Kentucky honored three women Wednesday for their contributions to the state and its people.
More photos at bottom of story.
The Martha Layne Collins Leadership Award recognizes women who inspire and motivate other women through their personal, community and professional lives.
This year's recipients — former state auditor Crit Luallen, former Lexington mayor Pam Miller and Lois Combs Weinberg, founder of the Hyndman Settlement School's dyslexia program — were honored during the 13th Annual Women's Business and Leadership Conference at the Griffin Gate Marriott.
The three recipients, along with past Women Leading Kentucky honorees Dr. Mary Evans Sias and Toni Murder McClure, Esq., participated in a panel discussion patterned after the television show "The View."
The five women tackled topics such as workplace prejudice, the importance of mentoring and volunteering, and handling adversity.
Earlier in the day, conference-goers heard from four-time Hawaii Ironman triathlete Molly Barker, founder of Girls on the Run International, a non-profit youth development program which combines an interactive curriculum and running to inspire self-respect and healthy lifestyles in pre-teen girls, and Sandra Pianalto, president and CEO of the Federal Reserve Bank of Cleveland.
The conference also provided networking opportunities for women across the state.
Women Leading Kentucky exists to create "business and leadership opportunities for women of all ages, enabling them to lead, learn, achieve and give back to their communities," according to the organization.
More than 1,500 men and women attended Women Leading Kentucky events in 2011, and the organization awarded 13 college scholarships last year.
Photos by Lorie Hailey, Associate Editor