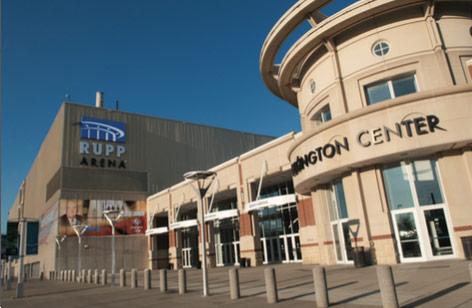 Lexington, Ky. – Rupp Arena has long been an iconic facility, revered across the commonwealth and a fixture on many U.S. sports enthusiasts' bucket list – as well as an economic linchpin of Lexington and Central Kentucky today. For years in the early 1970s, however, it existed only in the dreams of a clutch of passionate local instigators.
Because they wouldn't give up – though doubted by many and facing numerous obstacles – Lexington now has not only a basketball palace but a convention center and a historic performance site, the Lexington Opera House, that together generate about $75 million in annual economic impact as 1.2 million people attend entertainment, civic, business and community events.
To commemorate the 40th anniversary of Rupp Arena and Lexington Center opening their doors in November 1976, a documentary titled "Gamechanger, The Lexington Center Story" was created to tell the fascinating story of how the project came to fruition. And yes, it includes the almost-obligatory scrawling out of the plans on cocktail napkins over dinner with the project's future developer.
But it is no exaggeration four decades later to call Rupp Arena and Lexington Convention Center the heart of a vibrant downtown scene, as well as a major economic engine for the city.
"The Lexington Center has been a true workhorse for our community and a mainstay of our tourism industry since its inception," said Mary Quinn Ramer, president of VisitLex. "Through conventions, athletics, concerts and more, the Lexington Center has contributed significantly to the positive growth of our visitor economy."
An October 2015 report on an analysis by Convention Sports & Leisure, a leading convention financial consultant, measured the annual economic impact from only conventions at $42 million, said Bill Owen, president and CEO of Lexington Center Corp.
"I would think the economic activity from Rupp Arena, while not measured in the study, is a similar number – maybe not quite as high – so combined I would think $75 million annually is a good number," Owen said.
Rupp accounts for  850,000 of the 1.2 million annual attendance for all events at all of Lexington Center's facilities, he said.
The undertaking to bring it into existence truly was a "gamechanger."
"Navigating the turbulent waters of urban change in the 1960s and '70s, a group of civic-minded individuals pursued their dreams and, in the process, created a beacon of culture and an economic engine in what was then a dying city core," the familiar voice of the narrator, University of Kentucky Wildcats broadcaster Ralph Hacker, intones as the documentary opens.
Airing multiple times in December and January on KET, the one-hour program by award-winning filmmaker Arthur Rouse captures recollections of the 16 individuals instrumental in the creation and development of Lexington Center, Rupp Arena and the revival of a crumbling Lexington Opera House then facing demolition. More than a retelling of history, it is a tribute to the dedication and tenacity of the men and women who conceived, designed, opened and operated those landmark facilities.
Early momentum 
Before Rupp Arena existed, the UK men's basketball team had played their games since 1950 at Memorial Coliseum. Located on the Avenue of Champions near the university, the 10,000-seat facility was far too small to host near the number of fans who wished to attend UK games.
"The situation with tickets got so bad that they didn't even have a waiting list because it would have been so long," said Joe B. Hall, UK's men's head basketball coach from 1972-1985. "The university just gave up."
However, a group of diverse individuals – later dubbed "The Alleycats" – with a collective passion for Kentucky basketball began discussing the possibility and feasibility of a new, large arena in downtown Lexington.
"I had a passion for the project and the community itself," said DeWitt Hisle, one of the original Alleycats and a Lexington Center board member for more than 20 years. "It was fantastic – the amount of people devoted to the cause and the time they put in to get it
done. I wouldn't take anything for being involved. It was when we were put together (that we made a difference)."
A small but tenacious group, the Alleycats worked tirelessly to collect information to support their ideas, and then presented their proposal to UK's then-President Otis Singletary.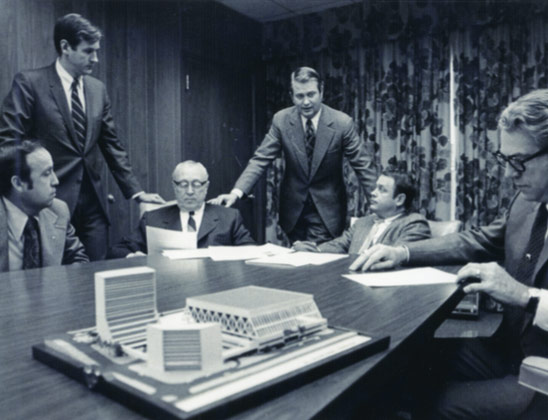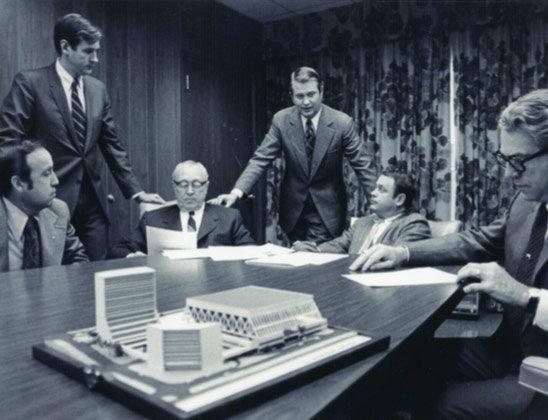 "It was a very difficult, tumultuous meeting (with Dr. Singletary)," said Jim Host, who would serve as the first executive director of the Lexington Center Corp. board, which was formed in 1972. "It almost came to an end a couple of times … but we ended up developing a plan out of that meeting that worked.
"Dr. Singletary made it clear to me that he would not ever agree to an arena being built or UK playing in it unless we were able to guarantee him the same amount of money that was coming in from the basketball team playing at Memorial Coliseum. At that point, he never believed we would ever fill it, and he never believed that fans would support it at a (downtown) location."
After providing Singletary with a guarantee, the newly formed Lexington Center Corp. board mapped out the details of the project. They would strive to build a complex with a mix of public and private funds – the first major public complex in the nation to combine such financing. And it wouldn't just be a sports arena, but also a complete entertainment and convention facility.
The board faced another major hurdle when trying to find a developer/ architect team that would agree to take on the project on a design/build/invest basis to ensure proper funding was available. The first two major building firms that presented proposals wouldn't agree to such an arrangement and said the project should be completed on a traditional architectural fee basis.
Host, who was worried the third firm would have the same stipulations, approached the group before they presented their proposal.
"I said, 'We just had two great presentations, and we're looking forward to yours, but you must really sharpen your pencils and make a knockout presentation,'" Host remembered with a chuckle.
The architect/general contractor team, Ellerbe Becket and Huber, Hunt & Nichols, did just that, providing a guarantee of the construction costs and revenue flow and including hotel onsite.
"It turned out being a better proposal than we thought we would get and was literally a dream come true for all of us that had worked so hard on it," Host said. "They didn't know the first two firms didn't give us an offer at all."
The next major challenge of the project was acquiring the acres of land needed for parking on East High Street. The board set out to purchase adjacent residential properties to create an adequate parking lot, but they were soon faced with considerable opposition from local residents. The situation became a public debate and led to various lawsuits against the board, as well as people picketing then-Mayor Foster Pettit's home. Once people were offered full value for their homes, however, the uproar eventually died down.
Lexington Opera House restoration 
It was not part of the original plan, but the restoration of the Lexington Opera House was added to the massive downtown initiative, largely due to the effort of Linda Carey, one of the Lexington Center Corp.'s original board members.
A former singer/actress from Paducah, Ky., Carey had a passion for the arts and was first turned on to the Opera House when she saw a notice in the newspaper that the building had been condemned by the city's fire marshal. Built in 1886 on the corner of Main and Broadway, the Opera House had hosted live performances until the early 1920s, when it fell on hard economic times and was converted into a movie theater. Nearly 50 years later, the building was in disrepair and considered an eyesore to the city.
"It became an exciting project, because we found that we could buy the Opera House with the city's help for less money than (the cost of an additional) room in the Lexington Center," Carey said.
The city purchased the Opera House on behalf of the Lexington Center Corp. Carey, her husband, George Carey III, and philanthropist William T. Young founded the Opera House Fund Inc. in 1974 to channel financial assistance toward its potential restoration. Carey helped launched private campaigns to educate the public as well as community political and financial leaders about the historic structure's interesting heritage.
A decisive moment came in 1973 when high winds demolished the roof of the existing building. As a result, building inspectors determined the building was essentially sound, and urban planners found it would be cheaper to renovate the structure ($2.5 million) than build a new one ($7 million).
"I became very passionate about it because when I saw the arches and plaster that was restored, it brought back memories of the theater in my hometown where I had sung that got torn down," Carey said.
Helping restore the Opera House became a way for Carey to relive the wonderful memories of her past in Paducah while providing a better arts and culture scene for future generations. Chicago architect Oscar Cobb designed the extensive Opera House renovations, which included removing a false ceiling, reopening its two balconies and restoring theater boxes. The stage was rebuilt and updated to house modern equipment.
Rededicated in 1976, the year Rupp Arena and Lexington Center opened, the restored theater has less than 1,000 seats, but it hosts 85,000 patrons annually and is one of the smallest theaters in the country to host touring Broadway shows. Its 19th-century atmosphere creates a unique aesthetic and remains a premier cultural and historical destination in downtown Lexington.
"(The reconstruction of the Opera House) was a very emotional thing for me," Carey said. "When we re-opened it, there was a lump in my throat the whole week.
"I took my daughter to the first show I thought she would enjoy, and at lunch beforehand I started crying and she asked me why. I said, 'This is just so special.'"
Carey remains on the board of the Opera House Fund, today a nonprofit dedicated to assisting Lexington Center's support of the Opera House. The fund financially backstops the presentation of professional tours booked for the Broadway Live and Variety Live series and subsidizes local performing arts groups. It has provided more than $11 million in funds for local arts.
"When I go to the Opera House now for a show, it's very special to hear people around me say, 'Wow, isn't this beautiful?' Or, 'When was this built?'" Carey said. "It's very satisfying because my husband was also involved, and he passed away in 1996. He was a tall man and liked to sit up in a box, while I liked to sit in the first balcony. Every time I go, I look up there and it's like he's still there."
The finished products 
Construction of the huge downtown arena was completed in 1976, and the facility hosted its first performer, Lawrence Welk, before a crowd of 20,000. Built primarily to be the new home for UK basketball, the arena was named for the program's retired coach Adolph Rupp, whose reign from 1930 to 1972 created the demand that launched the project. The arena that eventually came to pass is part of a larger mixed-use development that includes the 70,000-s.f. Lexington Convention Center, a three-level shopping mall, the 350-room Hyatt Regency Hotel and, a block away, the Opera House.
With 23,500 seats, Rupp Arena is the largest facility in the country specifically built for basketball and ranks second for top average annual attendance. This is the final year of use for its specially designed, 12,000-pound sound system, "Big Bertha," which will be replaced by a multimillion- dollar, high-tech video display.
Over the years, Rupp has hosted hundreds of major music entertainers plus circuses, tractor pulls, Monster Jams and hockey games.
"The collaboration and the goodwill that exists between UK and the community really started as a result of the building of Rupp Arena and Lexington Center, and I think that still exists today," Host said. "There never was and never will be again a board that was as strong or worked harder on behalf of the community with no pay or expenses.
Good things can happen when you get great volunteer citizens involved who are there not for their own good, but for the public good."
Added Hisle: "It's still an economic engine for not just downtown, but for Central Kentucky. I think that will continue. (The building of Rupp/ Lexington Center) turned downtown from what it was into what it is today. We had to have the funds and the will to do it…it was accomplished because of the outstanding people working on it and supporting it."
Present and future improvements 
Owen, Lexington Center president/ CEO the past 16 years, has seen the facilities go through several changes and improvements. Most recently, Rupp Arena completed the first phase of a $15 million technology upgrade that includes new LED ribbon advertising boards encircling the lower seating level and LED screens to replace four static corner screens. Other improvements at Rupp Arena in coming years will include a new center-hung scoreboard, improved wireless Internet for fans, and stronger roofing infrastructure so the arena can attract more concerts and major events.
"When Rupp was first built, performances usually consisted of just one entertainer with a guitar," Owen said. "But now you've sometimes got 170,000 pounds of production equipment hanging from the ceiling (for a particular performer). That's a lot of the technology we're upgrading right now. Being able to keep Rupp relevant with the dramatically changing requirements of the sports industry and concert and entertainment industry has been a challenge, but it's also been very fulfilling."
Owen explained how the Opera House underwent a significant lobby renovation in 2001, as well as a stage- house renovation that improved the ability for artists, actors and other performers to use the facility effectively. Also, just a few years ago, with the help of Triangle Foundation, the Lexington Center Corp. rebuilt Triangle Park.
"During my 16 years, the way we've been able to address the aging facilities and make it continue to support activities and the community has been a real privilege to be involved with," Owen said.
Note: The documentary "Gamechanger: The Lexington Center Story" is available for purchase ($10) at the Lexington Center (859) 233-4567.