Also advocating early voting
FRANKFORT, Ky. (Jan. 4, 2017) — Secretary of State Alison Lundergan Grimes said that during the Kentucky General Assembly, which began Tuesday, she will push for early voting and legislation to make it easier for veteran-owned businesses to get started.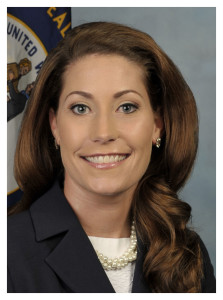 "When I took office, I promised Kentuckians that I would bring commonsense changes and reforms to the Secretary of State's office—that I would make it easier to do business with government and tear down barriers to the ballot box—and, together, we are making strides," Grimes said. "In this session, I'll continue to keep that promise."
Grimes' legislative campaign for early in-person absentee voting began last year and won bipartisan support, including the endorsement of Tre Hargett, the Republican Secretary of State of Tennessee. He traveled to Frankfort to offer his testimony on the legislation. Grimes' proposal calls for allowing all Kentucky voters to cast ballots early in-person without an excuse during their county's in-person absentee voting window.
Early voting is offered in 37 states and the District of Columbia.
Grimes also is advocating for a reform to help veterans start and grow businesses in the commonwealth. Her "Boots to Business" initiative would waive initial registration fees for new veteran-owned entities and waive annual report filing fees for the first four years those businesses operate.
"More than 330,000 Kentucky men and woman have fought for us, and I've been committed to fighting for them. 'Boots to Business' is a way to honor their service and help veterans begin writing a new chapter in their lives," said Grimes.
"Boots to Business" has the endorsement of many veterans and veteran organizations. It passed the full House without a single dissenting vote in the 2016 session.
Grimes will also continue to champion legislation for the automatic restoration of voting rights for non-violent felons who have completed their sentences.
"Only three states don't allow for the restoration of voting rights for people who've paid their debts to society – and Kentucky is one of them. It's time to embrace redemption in Kentucky," Grimes said. "I'll be the voice for the silenced until we finally resolve this issue. Let's make 2017 the year it happens. It's the fair and just thing to do."
Rep. Jody Richards (D-Bowling Green), the dean of the Kentucky House of Representatives, is the primary sponsor of Grimes' legislative initiatives.