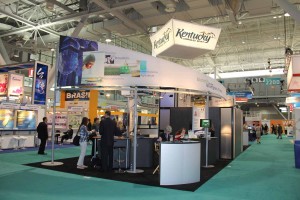 LEXINGTON, Ky. (June 26, 2012) — The 2012 BIO International Conference, conducted last week in Boston, featured an exposition showcasing exhibitors from around the world, special scientific presentations and speakers, and educational panels. While the conference was in session, temperatures throughout the region set record highs — some exceeding 100 degrees.
The BIO Conference was held in the Boston Convention and Exhibition Center, centrally located near downtown Boston, the Boston Harbor and Logan International Airport.
The Kentucky Pavilion was a new design for the 2012 conference and well located in a high traffic area on the convention floor.  Kentucky pavilion sponsors included the Kentucky Economic Development Cabinet, Kentucky research universities, economic development teams from major Kentucky cities, and Kentucky-based biotech companies.
An estimated 16,000 persons from 49 states and 69 countries attended this year's conference. The 2013 BIO Conference will be conducted in Chicago.