By Robert Hadley
The legal environment in Louisville has seen its share of growth in the last few years, with the introduction of courtroom technology, the addition of a global services center for international law firm Hogan Lovells and a recovering economy providing more job opportunities for lawyers.
Hogan Lovells inked a 10-year lease in Paragon Place on Shelbyville Road in eastern Jefferson County, far from the hotbed of the city's downtown Central Business District. The location of the 30,000-s.f. office signals that calling the behemoth firm a direct competitor with local lawyers may be a bit premature.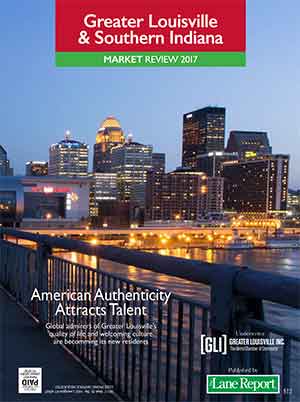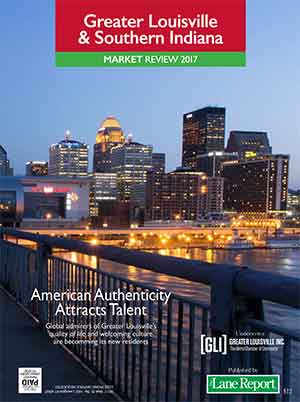 Don Kelly, managing partner of Wyatt, Tarrant & Combs LLP, said all signs point to the firm, which employs 2,500 worldwide across more than 40 countries, being a boon rather than a bane to the overall market.
"They're not really opening a legal office per se," Kelly said. "Our understanding is that they're bringing 'back-end operations' – accounting, conflict management, administration – as opposed to a legal presence."
Kelly based his comments on meetings where staff at both firms explored  opportunities to coordinate work and make introductions in the community.
"I'm always happy to have other people training people who could help us in business as well," Kelly said.
High tech enhances the practice of law
In terms of legal expertise, Kelly gave the Metro high marks.
"I think the legal environment here is sophisticated," he said. "The top-end work here is as good as anywhere. Obviously, there's not the deal size you might have in New York City, but for the size of the market, I'd say it's very good here."
Larger cities may have more Fortune 500 and Fortune 1000 firms, along with the greater volume of high-dollar work they generate. But Kelly pointed out an advantage Louisville has: lower costs.
"We're blessed to have a rate structure in Louisville that is very favorable for clients compared to New York, Washington, Chicago, even Columbus or Atlanta," he said. "Our fees would be substantially lower than those cities."
If competitive rates lure some work to law firms in the metro, the same cannot be said for the almost Hollywood-style courtroom technology that not only videotapes the entire trial (a feature of many Kentucky courtrooms), but allows TV-style graphic capabilities for displaying documents to jurors.
"I think a trial is a production," said Patrick Michael, a partner in the litigation department of Dinsmore & Shohl LLP. "I'm here to get (jurors') attention and keep them learning so they're not bored."
As appealing as the high-tech wizardry of the Jefferson County courtrooms proves to be, lawyers cannot choose to try a case there just to have the benefit of the new technology.
Yet the presence of the advanced audio-visual systems does make Louisville a training site, both for up-and-coming counselors and those from elsewhere in Kentucky trying a case in the specially equipped venues. That helps keep the city at the forefront.
"We teach a class once a month on how to use the JCUP system," Michael said. "But it's literally so easy a 5-year-old could do it."
JCUP refers to the Jefferson Courtroom Upgrade Project, an $800,000 privately funded effort that enhanced the statewide audiovisual systems already in place in courtrooms by adding the ability to project images from a laptop or document camera to a 47-inch flat-screen monitor, aiding in jurors' comprehension of the case.
In articles published in LawTechnology.org and Bench & Bar, the Kentucky Bar Association's journal, Michael mentioned two studies, one by the National University of Taiwan and the other by the University of North Texas, that show students learn better with audiovisual systems.
In citing the studies, Michael draws a parallel between students and jurors, who he says are raised on smartphones and tablets and would be hard to engage with pencil-and-paper presentation methods.
"That's the world live in now," Michael said. "If you're not working on that level, you're being left behind."
Ackerson & Yann PLLC
ackersonlegal.com
Bingham Greenebaum Doll LLP
bgdlegal.com
Boehl Stopher & Graves LLP
bsg-law.com
Camoriano & Associates
inventky.com
Conliffe, Sandmann & Sullivan PLLC
cssattorneys.com
Dinsmore & Shohl LLP
dinsmore.com
Dressman Benzinger Lavelle PSC
dbllaw.com
Fisher & Phillips LLP
laborlawyers.com
Frost Brown Todd LLC
frostbrowntodd.com
Fultz Maddox Hovious & Dickens PLC
fmhd.com
Goldberg & Simpson
goldbergsimpson.com
Gwin Steinmetz & Baird PLLC
gsblegal.com
Hogan Lovells
hoganlovells.com
Landrum & Shouse LLP
landrumshouse.com
Lynch Cox Gilman & Goodman PSC
lynchcoxlaw.com
McBrayer, McGinnis,
Leslie & Kirkland PLLC
mmlk.com
Middleton Reutlinger
middreut.com
Morgan & Pottinger PSC
morganandpottinger.com
O'Bryan, Brown & Toner PLLC
obtlaw.com
Phillips Parker Orberson & Arnett PLC
ppoalaw.com
Schiller Osbourn Barnes & Maoney PLLC
sobmlegal.com
Seiller Waterman LLC
derbycitylaw.com
Stites & Harbison PLLC
stites.com
Stoll Keenon Ogden PLLC
skofirm.com
Thompson Miller & Simpson PLC
tmslawplc.com
Tilford Dobbins Alexander PLLC
tilfordlaw.com
Ward, Hocker & Thornton PLLC
whtlaw.com
Weber & Rose PSC
weberandrose.com
Wyatt, Tarrant & Combs LLP
wyattfirm.com
Zielke Law Firm PLLC
zielkefirm.com