By Susan Gosselin
Kentucky is the home to some of the biggest and most important names in healthcare, insurance and aging care. Humana, Kindred Healthcare, Almost Family and ResCare got their start in Louisville. In recent years, momentum in the area lured companies like Atria Senior Living, Signature HealthCARE and Trilogy Health Services. Louisville also boasts two Fortune 500 health-related corporations: Humana and Kindred.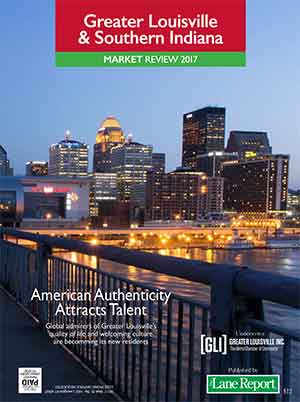 And it's growing. Between 2006 and 2016, the Healthcare sector employment increased 22.3 percent.
Best of all, the money spent on healthcare stays in the area, HEN estimates. Approximately 72 percent of core healthcare spending goes to individual workers either as payroll or proprietary income in the Louisville Metropolitan Statistical Area.
More strides in aging care
Louisville also holds the distinction of being the world's leader in aging care, with more aging care company headquarters than any other city in the world.
Healthcare and the industries that support it are one of the driving forces behind Kentucky's economic development, and the train is now slowing down.
"There are 45 million aging citizens in the U.S., and that number will double in the next 20 years," said David Buschman, managing director of HEN. "There aren't enough facilities or service providers to handle that kind of growth. As healthcare budgets continue to tighten, options like remote monitoring and in-home care will help address that shortfall. But to meet the needs, we need to be working hard in every part of the industry to work together and innovate. In the last few years, our local companies have been doing just that."
That cooperation now will have an address in downtown Louisville, at The Thrive Innovation Center, a 5,000-s.f. facility that is designed to help research, validate and test new care protocols, products and technologies that help seniors age well.
Set to open this year in downtown Louisville, the center is made possible through the partnership a broad coalition of healthcare and healthcare service companies. They can use the center to help bring their ideas to market faster, by bringing real seniors into contact with real products in development. And those products can range from a new care suite concept for a senior care facility, to the latest in home monitoring equipment, to smart devices that help seniors keep track of their medicines and other issues.
And it's a service not just available to the sponsoring corporations, but to any corporation wishing to test and screen a new product or concept for seniors. This kind of service, officials hope, will be the public face of Louisville's dominance in the Aging Care industry – a kind of front door for the city that will eventually usher more entrepreneurs in.
Norton expanding its presence
Norton Healthcare is one such company that is expanding its role, and the way it thinks about healthcare delivery. In fact, this Louisville-based healthcare system is pioneering a number of new ideas, including a new "healthcare home" in Louisville's West End. The center will be opened in a new YMCA being built in that side of the city. The improved access and affordability is designed to make good healthcare a part of community life, and is expected to help decrease healthcare disparities among this traditionally economically disadvantaged part of the community.
This is one of only many investments Norton is making, including a new $78 million Jennifer Lawrence Children's Cardiac Intensive Care Unit, and a $107 million, 74-bed expansion of Norton's Audubon hospital. The healthcare system is also adding a new Norton's Children's Cancer Institute.
"The Cancer Institute is an exciting new expansion for us, and for the market overall," said Michael Gough, vice president at Norton Healthcare. "The institute will include new programs for treating rare tumors and benign blood disorders, such as sickle cell anemia, as well as a revamped program for bone marrow transplant (part of high-dose chemotherapy). It also includes initiatives to develop additional groundbreaking research and cutting-edge technology, and recruit additional hematology/oncology specialists and medical students to improve patients' access to care."
Part of improving patient access is addressing the numerous workforce development issues that plague this rapidly growing industry, experts say. Trilogy Healthcare, a major senior care chain, has started a high school program that allows students to graduate from high school with a Certified Nursing Assistant certificate, so they can start working right away. Companies throughout the area are offering generous tuition reimbursement programs and incentives to help fill the gap with qualified workers. Signature HealthCARE recently started a program in the Louisville that will allow workers at their facilities to work flexible hours, and work them interchangeably among several of their facilities – a relatively innovative idea for senior care company.
Louisville's aging care companies are working together to make sure they find and identify the right workers, especially Certified Nursing Assistants, in the first place. HEN serves as an administrator for training grants that are disbursed through the Kentucky Long Term Care Training Consortium. Companies in the consortium then use the advanced training and applicant assessment tools the consortium provides to help reduce their turnover.
"Louisville's healthcare sector is continuing to grow," Buschman said. "Our big challenge in the future will be how to train and attract the right people to ensure those companies grow. And I think we are well on our way."