By Kathie Stamps
Fundraising is no easy feat in any industry, yet Louisville's Fund for the Arts makes it look effortless. By the June 30, 2016, end of its most recent fiscal year, FFA had surpassed its $8.3 million fundraising campaign goal by $300,000. Christen Boone, president and CEO of Fund for the Arts, credits local residents' and corporate citizens' arts appreciation.
"Here in Louisville we have one of the national models for arts and business," Boone said. The United Arts Campaign works with 400-plus companies and nearly 20,000 donors. The strong arts and cultural scene makes a good recruitment tool for corporations and helps companies engage employees in arts-related team building activities and volunteer opportunities.
Americans for the Arts, a nonprofit based in Washington and New York City, recognizes 10 U.S. companies each year for partnering with the arts as part of their business strategy. Known as the BCA 10, the Business Committee for the Arts awards will include two Louisville companies at its NYC gala in October.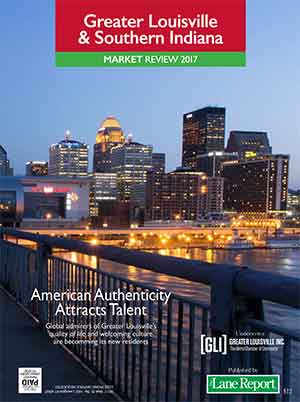 This year the FFA took on coordination efforts for the 2017 Cultural Pass, a summer program that came out of Vision Louisville in 2014. The pass offers children free one-time admission at 38 participating arts venues.
"We have been expanding our Arts and Education program," Boone said. "With Delta Dental, we reached out to Western Kentucky to support arts in education there; locally we launched Art Match, an opportunity to be able to provide matching dollars for innovative arts project in our community."
The Fund for the Arts does not receive money from the National Endowment for the Arts, yet NEA dollars are critical for FFA's cultural partners and other community organizations. "This is not a political issue," Boone said. "People across the state, rural and urban, benefit from the National Endowment for the Arts. This is a smart investment in our country."
Community members, 5,000 strong, contributed feedback and input for a year and a half for Imagine Greater Louisville 2020, an arts and cultural vision to transform the region. The steering committee identified five priorities for the plan unveiled in April 2017: offering greater access to the arts; cultivating Louisville as a magnet for artists and creatives, and growing the existing arts and culture scene; providing schoolchildren with the opportunity to experience and participate in the arts in their schools; fostering equity, diversity and inclusivity; and promoting Louisville's arts and cultural assets.
"It was really important for the steering committee to make sure that it wasn't just an arts and culture plan but that it was a community plan, and addressed community-wide goals and challenges," Boone said, adding, "knowing that if the community is stronger it will mean more opportunities for all of us."
Southern Indiana scene
Julie Schweitzer, executive director of Arts Council of Southern Indiana, has created opportunities for young people in New Albany, Ind., and Floyd County's surrounding areas. Hired six years ago when the doors were about to close, she restructured the organization from one that re-grants monies into more of a presenting organization.
Located in a gothic revival house in New Albany, the Arts Council of Southern Indiana is independently funded by membership dues and programming grants. Representing 400 artists' work on site, the council's building houses galleries for visual and performance artists, artist-in-residence rooms, a classroom, gift shop, art storage and a book repository for the center's "free library" project, which is upcycling old newspaper boxes that were taken off the streets. Using high school students' creativity, some of the metal boxes were transformed into sculptural works of art and others into artistic little free libraries.
In the spring 2016, Schweitzer was just about to put out a call for artists for the newspaper box art project when a teenager from a youth philanthropy group asked if her school art club could participate.
"I realized this benefited 50 kids instead of one artist," Schweitzer said. "They had to raise money to fund it, and corporations were involved, and I changed the program."
Working exclusively with high school and college groups does take more time, but Schweitzer cites the impact on community involvement for present and future artists and residents.
Forecastle draws tens of thousands
Art and music fans of all ages are bound to be found at the annual three-day Forecastle Festival at Waterfront Park. Founded in 2002, the summer event has grown annually, with its dozens of acts now bringing in crowds of 60,000. An economic impact study released in 2014 showed the Forecastle Festival music, art and environmental activism festival contributed more than $14 million to the Louisville economy, with $7.9 million in direct expenditures. In 2010, a 501(c)(3) was formed as the environmental activism arm of the festival. The Forecastle Foundation nonprofit raised $99,000 last year for donations to conservation groups like Kentucky Natural Lands Trust and the Nature Conservancy.
Meanwhile, with a mission of "Art + Activism," Kara Nichols founded the 1619 Flux art gallery in March 2016. The nonprofit has a gallery on West Main Street and is a founding partner in the Fran Heutig Public Art Project, along with Louisville Metro Public Art and the Fund for the Arts, to provide funding for artwork in public spaces in west Louisville neighborhoods.
"People need spaces that are not home, work or church to connect and reflect on life and community," Nichols said. "1619 Flux provides this space to bring diverse audiences together through providing opportunities to creative people to exhibit, perform and converse, regardless of race, socioeconomic and demographic origins, and sexual orientations." 
Marking the gallery's one-year anniversary, the Neighborhood Revitalization & The Creative Flow Exhibition opened April 15 and was scheduled for display through July. 1619 Flux Artistic Director Jesse Levesque said the curated exhibit "is all about the importance of creative people and the arts in improving community space(s)."
Greater Louisville offers a wealth of arts and culture opportunities for virtually every single taste and style for young and old. Here is a sampling of some of those opportunities.
Actors Theatre of Louisville
actorstheatre.org
B. Deemer Gallery
bdeemer.com
Carnegie Center for Art & History
New Albany, Ind.
carnegiecenter.org
CenterStage at the Jewish Community Center
jccoflouisville.org/the-j/centerstage
Central Kentucky Community Theatre
Springfield
centralkytheatre.com
Clarksville Little Theatre
clarksvillelittletheatre.org
Commonwealth Theatre Center
(formerly Walden Theatre)
commonwealththeatre.org
Derby Dinner Playhouse
Clarksville
derbydinner.com
Filson Historical Society
filsonhistorical.org
Hidden Hill Nursery & Sculpture Garden
Utica, Ind.
hiddenhillnursery.com
Humana Festival of New American Plays
actorstheatre.org/humana-festival-
     of-new-american-plays
Iroquois Amphitheater
iroquoisamphitheater.com
Kentucky Center for African American Heritage
kcaah.org
Kentucky Center for the Performing Arts
kentuckycenter.org
Kentucky Opera
kyopera.org
Kentucky Shakespeare
kyshakespeare.com
KMAC Museum
kmacmuseum.org
Louisville Ballet
louisvilleballet.org
Louisville Chorus
louisvillechorus.org
Louisville Memorial Auditorium
louisvillememorialauditorium.com
Louisville Orchestra
louisvilleorchestra.org
Louisville Theatrical Association
louisville.broadway.com
Louisville Visual Art
louisvillevisualart.org
Louisville Youth Choir
louyouthchoir.org
Louisville Youth Orchestra
lyo.org
Mellwood Arts & Entertainment Center
mellwoodartcenter.com
Museum Row on Main
museumrowonmain.com
New Albany Riverfront Amphitheater
cityofnewalbany.com
Paul W. Ogle Cultural & Community Center
oglecenter.ius.edu
1619 Flux Art + Activism
1619flux.org
StageOne Family Theatre
stageone.org
Stephen Foster Story
Bardstown
stephenfoster.com
Speed Art Museum
speedmuseum.org
St. James Court Art Show
stjamescourtartshow.com
21c Museum
21cmuseum.org
UofL Theatre Arts Department
louisville.edu/theatrearts
West Louisville Performing Arts Academy
westlouisvilleperformingarts.org