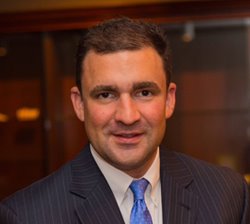 PIKEVILLE, Ky. (Oct. 10, 2017) – UPIKE alumni Kyle Sineath will be the featured speaker for the University of Pikeville's Coleman College of Business Speakers and Leadership Series. He will present "From Pikeville College to CEO: Many Great Things Have Unexpected Beginnings." The event is set for Wednesday, Oct. 11, at 1 p.m. in Booth Auditorium.
Sineath is the chief executive officer and president of Paxeon Reconstruction in Collierville, Tenn. Paxeon Reconstruction builds best-in-class orthopaedic products, including derivative and emerging products. The business collaborates with hospitals, health systems and physicians to create alignment and utilization of value-based solutions combined with efficiency models for today's changing healthcare environment. Paxeon Reconstruction offers the world's most comprehensive portfolio of orthopaedic products and services for joint reconstruction.
In 2011, Sineath sold his first start-up company focused on stem cell technologies to Redken Cosmetics. From 2012 to 2015, his leadership guided NuTech Medical from $12 million to $40 million annually, which was acquired for $86 million.
He earned his bachelor's degrees in criminal justice and sociology from Pikeville College and a master's of business administration degree from Jacksonville University. As an undergraduate student-athlete, he was a member of the university's football, soccer and tennis teams.
Sineath serves annually as a guest speaker for the largest orthopaedic meeting in the world, addressing topics on investing in startup orthopaedic companies and investing in new and derivative technologies.
He and his wife, Lauren, welcomed their first son, Kamp, in 2015. The couple has an extended heart for Christian missionary work and supporting the Christian mission field. In their down time, the Sineaths enjoy visiting the mountains, specifically Utah. The campus and the community are cordially invited to attend the Oct. 11, event.