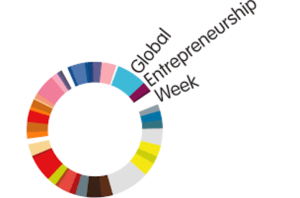 LEXINGTON, Ky. (Nov. 8, 2017) — It all begins on Monday, Nov. 13 — the University of Kentucky, the city of Lexington and Lexington-based startup entrepreneurs, small businesses, investors and service providers will join in the worldwide celebration of Global Entrepreneurship Week 2017.
A total of 15 events celebrating entrepreneurship will take place on campus and at venues throughout Lexington during the week of Nov. 13-19. The list of events includes educational content for startup entrepreneurs and small business leaders, networking opportunities, and a pitch completion — similar to Shark Tank. All events are open to the public and most events are free. Learn more or register for events at www.eventbrite.com/o/lexington-innovation-office-and-small-business-development-center-3839921603.
Lexington's Global Entrepreneurship Week festivities are a service of the Bluegrass Business Development Partnership (BBDP), a collaboration between UK, Commerce Lexington and the city of Lexington.
"One of our goals with GEWLEX 2017 is to raise awareness of the many local programs that contribute to Lexington's entrepreneurial ecosystem," said Eric Hartman, director of the Lexington Office of the Kentucky Innovation Network, a part of the UK Gatton College of Business and Economics and BBDP partner organization. The Kentucky Innovation Network is an initiative of and partially funded by the Kentucky Economic Development Cabinet. GEWLEX 2017 festivities will feature community programs such as Startup Advantage, Inventor's Network Kentucky, Kre8Now Makerspace, SBIR Connect and Startup Breakfast. All of these programs meet weekly or monthly in Lexington to support local entrepreneurs.
"GEW is a fantastic opportunity for the Lexington entrepreneurial community, and the UK Office of Technology Commercialization (OTC) is excited to participate," said Ian McClure, director of OTC. "We encourage any UK faculty, staff or students that are entrepreneurs and manage a company affiliated with UK technology, or that are interested in doing so, to take advantage and attend one or more of the events."
McClure will present at a Tuesday morning event entitled "IP200 — Startup IP Strategies that Create Value" and will moderate panel discussions for the "M&A — How to Get Acquired" event on Wednesday. Both events will take place at Base110 in downtown Lexington.
"It is very exciting to see how much Lexington's GEW has grown since 2011. GEW is a great time for the entrepreneurial community to come together, to support and learn from each other. I would encourage everyone to take full advantage of as many offerings as possible during the week," said Warren Nash, executive director of the UK Von Allmen Center for Entrepreneurship.
The Von Allmen Center in the Gatton College will host a Lunch and Learn event on campus on Thursday, and Nash will emcee an Open Coffee event on Thursday morning in downtown Lexington. Both events will feature entrepreneur Tony Augilar, founder of FinTech startups STUDENT LOAN GENIUS and CHIPPER.
"Commerce Lexington is pleased to support Global Entrepreneurship Week and the Lexington-based entrepreneurs and small business leaders that it serves," said Gina Greathouse, executive vice president for economic development at Commerce Lexington.
Commerce Lexington will host the Monday evening "Beer & BMC" event (a workshop featuring a happy hour atmosphere, appetizers and West Sixth Brewing) and is an organizing partner in Lexington's SPARK entrepreneurship education and networking series. SPARK will join Inventors Network Kentucky and Kre8Now Makerspace in hosting Entrepreneur's Night at the Movies on Thursday evening.
"Global Entrepreneurship Week is a great opportunity for the Lexington entrepreneurial ecosystem to celebrate the innovation, drive and determination that propels small business owners and entrepreneurs," said Shawn Rogers, director of the Bluegrass Small Business Development Center, a part of the UK College of Agriculture, Food and Environment and BBDP partner organization. The Bluegrass SBDC will host an event at Pasta Garage on Tuesday titled "Marketing Musts for Small Business" featuring author Rieva Lesonsky. On Friday, the Bluegrass SBDC will host the "Let's Talk Small Biz" series featuring the topic of Exit Planning for Small Business.
GEWLEX will conclude with the 10th anniversary edition of Startup Weekend LEX — a 54-hour frenzy of business model creation, coding, designing and market validation. Part of Techstars' national Startup Weekend movement, Startup Weekend LEX is facilitated and hosted by Awesome Inc.
GEWLEX is supported in part by sponsorships.
"Twenty-six organizations have demonstrated support for the Lexington entrepreneurial community through their generous sponsorship of GEWLEX 2017," Hartman said.
Presenting sponsor Creative Lodging Solutions will provide a free weekend getaway for one lucky entrepreneur who attends at least six GEWLEX events. More than $3,500 in prizes will be given away to GEWLEX attendees throughout the week. Creative Lodging Solutions will host two GEWLEX events on Friday afternoon: Spotlight Entrepreneur featuring Lexington-based startup PASIV Duty and Stand Up for your Startup. Creative Lodging Solutions' co-founder and CEO Mike Tetterton, Jeremy Patches (PASIV Duty) and Tony Augilar (Student Loan Genius) will judge the annual Stand Up for Your Startup pitch competition, during which a total of $1,500 in prize money will be awarded.