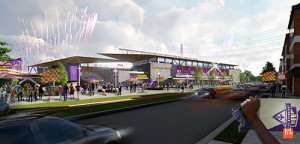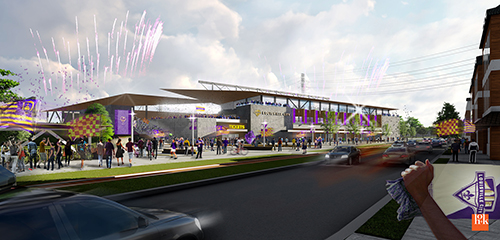 LOUISVILLE, Ky. (Nov. 30, 2017)  – A milestone was reached today in the development of a soccer stadium district on about 35 underutilized acres in Butchertown. Financing was secured at a highly competitive rate for Louisville Metro Government's sole investment in the project, $30 million. The general obligation bond anticipation notes (BANs) were sold to J.P. Morgan Securities LLC with a winning interest bid of 1.96 percent.
The city's portion of the nearly $200 million soccer stadium district plan includes $25 million to buy and prepare the land, and $5 million to fund brownfield remediation and public infrastructure. Louisville City FC (LCFC) will develop the project, which will be anchored by a $50 million, 10,000-seat stadium. The development will also include retail, a hotel and offices, built by private investment.
In addition, LCFC will pay $14.5 million back to the city over 20 years for the land cost.
"This is a smart opportunity, and when smart opportunities to move our city forward come up, we're going to take them. Pro soccer is an amenity that helps attract and retain young talent, and our entire city will benefit once this underutilized, highly visible space is reinvented as a bustling, vibrant soccer stadium district," said Mayor Greg Fischer.
The project will create jobs and eliminate a brownfield currently filled with storage tanks, storage facilities and used cars. It also is expected to spark foot traffic to Butchertown, the Big Four Bridge, and Botanical Gardens. Additionally, it brings the prospect of a Major League Soccer franchise within reach.
A city-commissioned feasibility study confirmed that a soccer-specific stadium is needed to maintain and grow professional soccer in Louisville. The "stadium district," to include the soccer stadium, Louisville Slugger Field and the Yum! Center, all within blocks of each other in the same line of sight, will build on the momentum downtown, in Nulu and Butchertown.