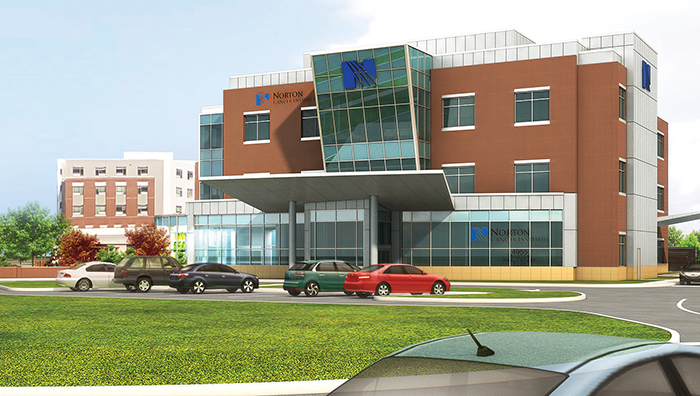 Norton Cancer Institute, the largest cancer program in the Louisville area, serves more than 4,000 newly diagnosed adult cancer patients each year. However, program leaders are focusing not only on the disease, but also on the individual lives it affects.
"We hope to ease a cancer diagnosis for patients and their families," said Russell F. Cox, president and chief executive officer of Norton Healthcare. "With so many lives touched directly and indirectly by cancer, we know there is a great need for this care not just locally, but throughout Kentucky and our surrounding region."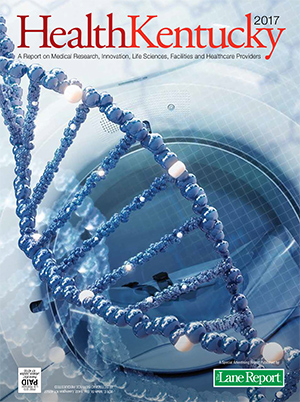 Today, Norton Cancer Institute provides care at multiple locations. Current facilities include a downtown cancer center, which offers radiation therapy and multidisciplinary clinics; a radiation center housed on the Norton Healthcare – St. Matthews campus; nine oncology practices throughout Louisville, Southern Indiana, Shelbyville and Shepherdsville; and numerous other services in Louisville and Southern Indiana.
In October 2018, Norton Cancer Institute will open a new 48,591-square-foot comprehensive center in northeastern Jefferson County.
"The Brownsboro location will bring all the oncology subspecialties and services covered by Norton Cancer Institute together for the
first time in one location," said Joseph M. Flynn, D.O., MPH, FACP, executive director and physician-in-chief of Norton Cancer Institute. "The use of innovative design and advanced technologies will provide highly personalized services and care based on each person's needs."
Norton Cancer Institute – Brownsboro will offer radiation oncology, medical oncology and infusion therapy in one location. Other specialties at the facility will include hematology, gynecologic oncology, neuro-oncology, orthopedic oncology and surgical oncology.
Features of Norton Cancer Institute – Brownsboro will include:
• Norton Cancer Institute's newest Prompt Care Clinic, which provides urgent care for the institute's patients to help them avoid emergency department visits between regularly scheduled appointments.
• Streamlined registration and pre-registration through mobile apps and self-check-in kiosks.
• The combined use of natural daylight and 100 percent LED lighting to support a more natural, less clinical feel.
• White/pink noise and music in key locations, along with special ceiling tiles and recycled denim insulation to dampen noise and enhance acoustics.
• Amenities such as personal technology charging stations, central nourishment stations, wireless internet access, a meditation room, a healing garden and a bistro.
New Partnership to Battle Childhood Cancer
As the community awaits the opening of the Brownsboro center, exciting news in pediatric cancer care also merits celebration. Norton Healthcare and the University of Louisville announced the formation of Norton Children's Cancer Institute in April 2017.
Combining the efforts of Norton Cancer Institute and Norton Children's Hospital, in affiliation with the University of Louisville, Norton Children's Cancer Institute will improve access to care and offer additional services for children and their families fighting cancer. This includes new programs for treating rare tumors and benign blood disorders, such as sickle cell anemia, as well as an enhanced program for bone marrow transplants.
In addition to offering new types of care, Norton Children's Cancer Institute has three primary goals: 1) Increase the number of clinical trials offered to patients and gain access to new therapies in their earliest stages; 2) develop additional groundbreaking research and advanced technology; and 3) recruit additional hematology/oncology specialists and medical students to improve patients' access to care.
"This is our chance for Louisville to become nationally recognized in the world of pediatric cancer research and gain access to the most cutting-edge clinical trials," Dr. Flynn said. "We see this affiliation as an opportunity to combine our resources and expertise to give kids the best treatment there is."
The University of Louisville provides physician support for Norton Children's Cancer Institute. Norton Healthcare has committed $1 million to UofL per year for pediatric oncology research and physician recruitment,in addition to providing leadership and support staff for the institute.
Within Norton Children's Cancer Institute, inpatients will continue to be cared for at the Addison Jo Blair Cancer Care Center in Norton Children's Hospital. For outpatients, the institute will occupy the fourth floor of the University of Louisville's new 170,000-square-foot pediatric medical office building at 401 E. Chestnut St. The facility, which is still under construction, is expected to be completed in July 2018.
With more than 8,000 pediatric cancer visits each year, Norton Children's Hospital is home to the country's oldest children's oncology program, continually accredited by the American College of Surgeons' Commission on Cancer since 1959.
New Unit for Teens, Young Adults
Teens and young adults with cancer often fall into a gap between the typical care model for children and the model for adults. Cancer specialists know that patients between ages 15 and 39 — generally defined as AYA (adolescent and young adult) patients — have unique care needs that can go unmet.
Some of those needs are physical. Others may be social, emotional, psychological and spiritual. Age-appropriate resources and support are critical when it comes to meeting these needs and taking on cancer. That is why Norton Children's Hospital dedicated a new unit specially designed for AYA cancer patients on June 29, 2017.
The AYA cancer unit is a 2,000-square-foot space separated from the larger cancer care unit. It includes dedicated patient rooms, quiet space for private individual time and a lounge area for social interaction among patients and visitors.
"This unit reflects our commitment to care not just for the body, but the person within," Dr. Flynn said. "Learning you have cancer is life-changing. We are here to meet the needs of adolescents and young adults who are facing a life-changing journey. We will be with them every step of the way."
---
Special Advertising Report