By Abby Laub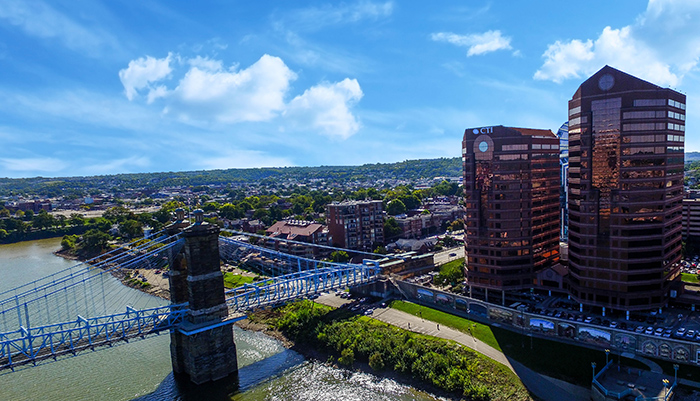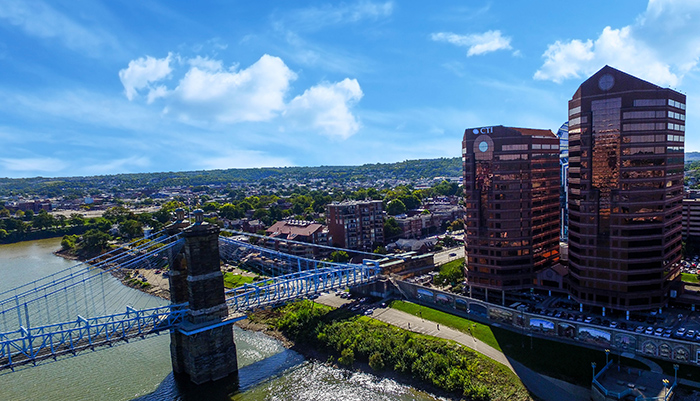 Northern Kentucky's real estate scene offers low costs and a deep variety of available properties from rural to urban settings to suit the needs of businesses, developers and residents.
In Covington, Corporex is upgrading its iconic RiverCenter towers on the waterfront and filling them with a list of enviable clients who seek all the things Northern Kentucky has to offer – a microcosm of the larger region. The latest win came in October 2017 when CTI Clinical Trial and Consulting Services opened its $36.4 million headquarters in RiverCenter.
Corporex is already seeing ripple effects from CTI's move across the river from nearby Blue Ash, Ohio.
"We have already seen it," said Thomas E. Banta, managing director of Corporex Companies LLC and Corporex Realty & Investment LLC. "We have shown space to companies related or that do business with CTI."
The whole region is getting increasing attention in the biomedical field, Banta said.
"CTI is another big piece of that. We also have Bexion Pharmaceuticals (developer of cancer treatments) right up the street."
As any good real estate developer knows, giving people things to do and places to eat is an integral part of attracting business. And Corporex hasn't missed a beat at its 550,000-s.f. RiverCenter office development – or an eat – recently opening innovative eateries like Butlers Pantry, FIRE, and Biscuits to Burgers. It has modernized its fitness center, added a state-of-the-art auditorium and installed public wifi.
"There is a trend in the industry; it's changed a lot over the last 10 years," Banta said. "We used to lease space and the tenant was only concerned about the physical space, and now the first question that comes up is 'How is this space going to help me attract and retain good talented people?' That's where the amenities come into play so much."
Corporex expects more buzz in 2018.
"The big leases like CTI are usually years in the making; they don't happen overnight, so you can kind of judge by your backlog what's coming next," according to Banta. "I think '18 is just going to continue to be extremely busy for real estate here in Northern Kentucky."
Thanks in part to Amazon Prime Air and DHL Express project announcements and expansions at Cincinnati/Northern Kentucky International Airport and "all of the residential being added in the urban core" there is, indeed, more real estate news in the pipeline.
"We have incredible housing stock in Covington, Newport and Bellevue and other areas that just haven't hardly been touched," Banta said.
He added, "I think you will see a big increase in the construction dollars being spent in this region, not only by our firm but all of the other developers as well. I expect it will outpace anything this region has done in 10 years."
Corporex-owned office buildings near the airport are filling up and there is "good leasing activity out there. We still own a considerable amount of land around the airport."
Residential real estate also is gobbling up space in the market at a record pace. In January 2017, the Northern Kentucky Association of Realtors released record numbers for 2016.
NKAR and The Northern Kentucky Multiple Listing Service reported that 2016 set records for home sales and total dollar. The 7,029 units sold in 2016 was up 10.48 percent over the 6,362 sold in 2015. The residential sales dollar volume rose 17.12 percent, from $1,045,135,827 in 2015 to $1,224,052,128 in 2016. The previously records for units sold and total dollars was set in 2005, when NKAR members sold 6,977 homes for $1,081,834,519.
However, the August 2016 average home sale price of $193,000 was much more than 2005's top average sale price month of $163,000. Additionally, in 2005 there were almost double the amount of homes available as in 2016.
Cost, variety, locale and more
The Northern Kentucky housing market benefits from lower costs, great variety and proximity to major metropolitan areas within minutes. Interstate highway access puts it only an hour away from both Louisville and Lexington, and mere minutes from the pristine rural settings many want access to.
One entity helping get more people in their ideal homes is the Catalytic Development Funding Corp. of Northern Kentucky. The Catalytic Fund is a private sector, not for profit organization providing financing assistance and related services for developers of quality residential and commercial real estate projects in Northern Kentucky's urban cities of Ludlow, Covington, Newport, Bellevue and Dayton (Target Area Cities).
Redeveloping these urban areas is key for the continued growth of the region. With smart, targeted dollars spent in the right places, these river cities will continue to experience economic growth through real estate endeavors.
A piece of prime real estate that will be up for grabs in the near future is the sprawling International Revenue Service building in downtown Covington – a stone's throw from RiverCenter. Banta, like many others, has an idea of what he would like to see on its 23-acre site.
"The urban area could really use a nice amenity space, whether it's a little inlet marina, or a green area, surrounded by development," he said. "The best example I can think of is Central Park in New York City. It is probably the most valuable land in the world, but they have kept it as a park because enhances the real estate values of the surrounding property as well as enhancing the lives of the residents."
In Newport, new developments are planned for the riverfront business district, with potential for nearly 100 new acres of riverfront property, making it even more of a welcoming gateway from Cincinnati.
In Covington's MainStrasse Village, a $38 million, 182-unit apartment complex is planned by an Alabama developer. The first three stories would be a parking garage with 100 spaces for public use.
Also to come in downtown Covington is Madison Flats, including 13 one-bedroom apartments and five commercial storefronts. In an announcement, the project's creator, Orleans Development, said it hopes to fill the need for "small, economical and beautifully-designed apartments."
Near Madison Lofts, work is underway on Duveneck Square, an apartment project next to Braxton Brewing Co.
In Dayton, work is underway on the luxury Gateway at Manhattan Harbour apartment complex. The complex is part of Manhattan Harbour, the mansions on the Ohio River. Gateway will consist of 76 luxury apartments with river views.
Northern Kentucky and its urban core are being transformed to fit the needs of the future, while also keeping in mind its history and heritage. l