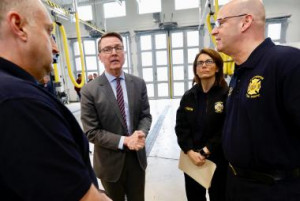 LEXINGTON, Ky. (Feb. 28, 2018) – The Lexington Fire Department is exploring Community Paramedicine, a new service that would enable firefighters to take a more comprehensive approach to the care of patients who have a high dependence on E-911.
"In the past we only provided the services needed to solve a patient's immediate medical problem," Fire Chief Kristin Chilton said. "Now we are taking a more holistic approach. Through home visits, education, and individual assessments we are helping patients get the help they need for the best overall outcome, and not just a short-term solution."
The Lexington Fire Department based its Community Paramedicine Pilot Program on similar programs nationwide.
Mayor Jim Gray said the program has the potential to be a win for the City, and a win for citizens. "This program would expand emergency medical care in Lexington, offering a new level of help to people who frequently call 9-1-1 for assistance with chronic concerns, such as mobility issues or transportation. If we dig a little deeper and treat the root problems, many patients would enjoy a new level of independence, and a better quality of life." Gray said. "At the same time, we hope this program will help us improve efficiency. It could level off the growing demand for emergency medical services, ensuring emergency vehicles are available for life-threatening emergencies."
Emergency run data shows a need for a different type of service, Gray said. The Fire Department's 11 ambulances responded to 48,238 medical calls in 2017, with 266 people accounting for 8.9% of those calls. Medical run volume for the department has grown an average of 7.5% each year for the last three years.
"We had a patient who wasn't able to get back into bed," Chilton said. "This person called for assistance 30 times in one month. Our Community Paramedics went to the patient's home to see if there were underlying problems that we could help solve. Armed with more information, and the help of community partners, we were able to get a lift device for the patient to use from home. It has been several months now, and the person has been able to maintain their independence without calling 9-1-1."
A $252,210 federal grant, plus $25,221 in local funds will fund the pilot project through late 2018. The program will be evaluated after the pilot ends to decide whether to continue it.
Two Lexington Firefighters will manage the pilot program. The grant pays for their salaries and the additional training they need to perform new responsibilities. All Lexington firefighters are trained Emergency Medicine Technicians. Over half of the firefighters in the department are also licensed paramedics.
"Traditionally, our role as firefighters is very reactive. We receive a call for help, and respond by starting patient care and transporting to a hospital, at which point our job is done,"
Chilton said. "Community Paramedicine allows us to become more proactive. By investing time in learning more about patients and their problems, we are able to provide better long-term solutions and follow-up care to ensure all their needs are being met."
"This is a natural fit for us," Chilton said. "We have always provided quality care for Lexington. Now we'll be doing it better and more efficiently."