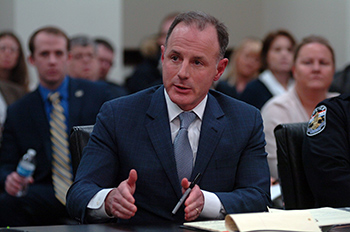 FRANKFORT, Ky. (March 14, 2018) — The House today approved a bill that would add to the list of state attorneys allowed to carry concealed weapons nearly anywhere in the state.
Under House Bill 315, the deputy attorney general, assistant deputy attorneys general, assistants, and special attorneys would have permission to carry a concealed weapon during their working years or retirement if the attorney has the proper license. The only place where concealed-carry would be limited for the attorneys would be in jails or other detention facilities, where carrying a concealed weapon on the premises would require permission of the jailer or warden.
HB 315 sponsor Rep. Robert Benvenuti, R-Lexington, spoke of the importance of the proposal on the House floor today.
"These attorneys handle some of the most complex cases including murder cases, homicide cases, and appeals," said Benvenuti. "They deserve the very same protection that we give all our other prosecutors here in Kentucky."
Passing the House on a 90-6 vote, HB 315 now goes to the Senate for its consideration.